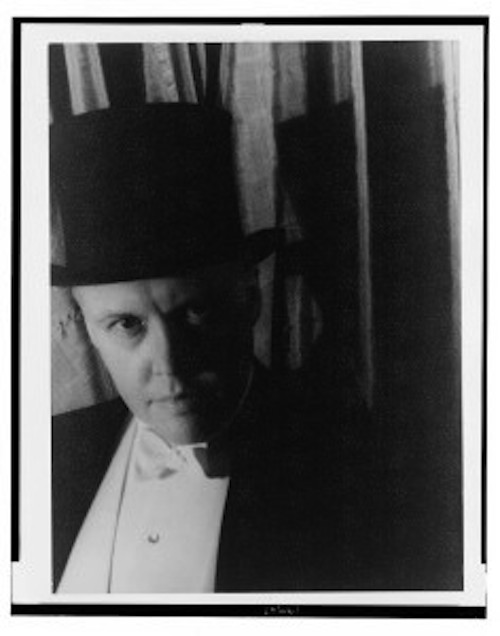 The Paris Review Daily's Edward White writes about the "shaping of the legend" of Gertrude Stein through Carl Van Vechten. White writes that the historical moment that Tender Buttons marked upon its publication "would never have arrived had it not been for the work of Stein's most important champion, Carl Van Vechten, the man who arranged for the book's publication." Daunting though it may be, almost a century later, to herald a man as the primary reason for Stein being Stein, we read on:
Little remembered today, Van Vechten was a pioneering arts critic, a popular author of tart, brittle novels about Manhattan's Jazz-Age excesses, an acclaimed photographer, and a flamboyant socialite whose daring interracial cocktail parties were a defining part of Prohibition-era New York's social scene. But his greatest legacy is as a promoter of many underappreciated American writers, artists, and performers who went on to gain canonical status. Names as diverse as Langston Hughes, Paul Robeson, and Herman Melville all felt the effects of Van Vechten's boost. His first great cause was Gertrude Stein. He did more than anyone else to carve her legend into the edifice of the American Century, arranging publishing deals for her, photographing her, and publicizing her work, a task he continued long after her death.

Stein knew how crucial Van Vechten was to her career—not merely in the practical aspects of getting her work into print, read, and discussed, but in helping create and disseminate the mythology that surrounds her name. "I always wanted to be historical, almost from a baby on," Stein freely admitted toward the end of her life. "Carl was one of the earliest ones that made me be certain that I was going to be." Van Vechten and Stein were strikingly different, led wildly different lives. Hers was rooted in the domestic stability she enjoyed with her partner Alice B. Toklas; his was an exhausting whirl of binges, parties, and pansexual escapades. But they had two crucial things in common: the conviction that Gertrude Stein was an irrefutable genius and a love of mythmaking, an obsession with re-scripting reality until they became the central actors in the fantastical scenes that unfolded in their heads. When Stein played fast and loose with the facts in her memoirs, The Autobiography of Alice B. Toklas, many were furious over her distortions. But Van Vechten understood that telling the literal truth about her life—or anybody else's—was never Stein's concern.

Indeed, one of those fabrications originated from an essay Van Vechten himself had written, about his experience of the remarkable Paris premiere of Le Sacre du Printemps two years earlier. That first performance of Stravinsky's taboo-busting ballet was a defining moment in the emergence of modernism as an artistic force, and Van Vechten's ecstatic review of it has been cited over the last century as a key eyewitness account of the event. But he never attended the first night: he had failed to get tickets and had to content himself with the second performance instead. Still, Van Vechten immediately understood the epochal significance of the occasion. He decided he would not allow such a trifling matter as the truth to prevent him from finding a place at the center of events. Gertrude Stein happened to be in the audience with Van Vechten for that second performance, and when he wrote her about his deception, he breezily reassured her that writers such as they "must only be accurate about such details in a work of fiction … I am not a bit muddled about the facts." Stein could not have agreed more. In fact, she so approved of Van Vechten's fiction that she embellished the story further in The Autobiography of Alice B. Toklas, suggesting that the first night of Le Sacre du Printemps was also the occasion of their first meeting, and that after the performance she rushed home to write a portrait of her new acquaintance.
Read on for yourself at the Paris Review Daily.