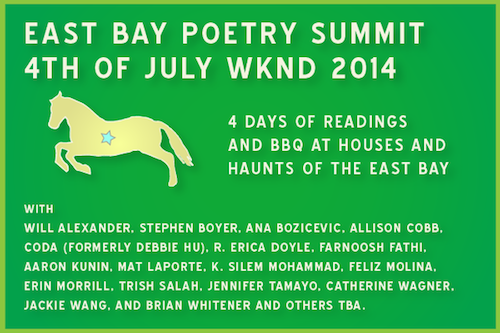 The East Bay Poetry Summit is back! Funny how it all returns. "Poets of the world once again converge on the East Bay July (fuck the) Fourth weekend! With your support, we can help defray travel costs and keep the party on."
Recall the outstanding Dolores Dorantes reading that came about because of the East Bay Poetry Summit. Recall the Brooklyn Poetry Summit that came about because of the East Bay Poetry Summit. The thinking on, what else, community. The extensions of that thinking that were recently published at BOMB. More on this excellent event:
We've invited poets from around the US and Canada to converge on Oakland to give readings, lead conversations, mix cocktails, and teach and learn from each other. Confirmed readers include Will Alexander, Stephen Boyer, Ana Bozicevic, Allison Cobb, Coda (formerly Debbie Hu), R. Erica Doyle, Farnoosh Fathi, Aaron Kunin, Mat LaPorte, K. Silem Mohammad, Feliz Molina, Erin Morrill, Trish Salah, Jennifer Tamayo, Catherine Wagner, Jackie Wang, and Brian Whitener. More names to come in the coming days.

We are hoping to pay all out of state poets $250 and in-state poets $100 for their travels. We wish it could be more--but this is your chance to directly impact our effort to help these poets travel to the Bay Area. Your generosity will make all the difference, as once again we are not funded by any institutional support! All the readings and events will be absolutely FREE! so any help you can provide would be critical to help these poets with the burden of travel costs.

The summit will launch Wednesday, July 2nd with karaoke at a location TBD. Readings will happen Thursday night, Friday afternoon and night, Saturday afternoon and night, followed by a party Sunday to celebrate and reminisce. Schedules forthcoming.

THANK YOU FOR YOUR SUPPORT!!!
Gifts for contributing this year include a visit to Jack Spicer's grave with Kevin Killian! We would also highly recommend the Personal Astrology Report from Denver Dufay.
Drop some pitted cherries that are actually abstracted currency right here in the coffer.
And if you're already in the Bay Area, make sure you drop by the FUNdraiser & Rummage Sale on Sunday, June 8.