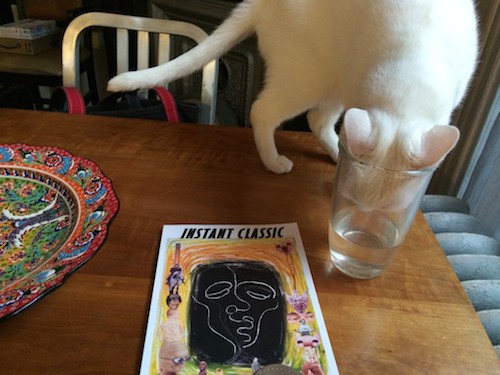 Continued from Part 1.

for erica
The thoughts of my text don't mirror literary criticism, are shapes of writing, are their present.---Leslie Scalapino
Of all divides (rich/poor, literate/not, young/old, dog/cat), the divide between those who sleep and those who are sleepless is largest of all.
For those to whom it comes easily, sleep is not a state of catatonia or falling out of a consciousness that grinds, but a mechanism for smoothing the conditions for ongoing. (Wake me in the middle of the night: we can talk.)
Literally, a condition of continual wakefulness, insomnia recognizes no middle of the night; the mind goes on without regard for the organizational patterns that govern orthodox relations.
The unorthodox person is in a loose state of relation to the ordinary. The unorthodox person who understands her deviance as a matter of uncorrectable necessity may find herself in a position to illuminate, by way of an effort to articulate her experience of the orthodox (in language, grammar and thought as in friendship or love) as written through a state of continual dreaming, may find herself in pain. "Their two is not the real two, their four not the real four; so that every word they say chagrins us, and we know not where to begin to set them right."
The sleepless genius of erica kaufman is separated from the traditions out of which her poems might be said to come. Her understanding of and study of these various traditions is shockingly complete and she is physically connected, visibly connected, via her criticism (Stein, Retallack, Guest, Myles) and commitments to the preservation of a critical tradition that takes into account these traditions---what she has become through Stein, L=A=N=G=U=A=G=E (sometimes we hear Bruce Andrews coming out of her, when she reads), New York School or the bodily condition of being in descent as "third generation" in relation to the Holocaust. The traditions are inseparable from one another in her work; no single one of these traditions is independently sufficient for coming to an understanding of her work.
I was often sitting beside erica kaufman while she was writing the poems in Instant Classic, poems that are in a state of perpetual agitation, or exception. erica's is a mind/voice that, in the enormity of its lateness, will always exceed self-imposed constraint. From "INSTANT CLASSIC: (re)genesis":
remove a part of my body stitch me switch my blood
type to anesthetic pierce my nipples then wake to
reject the metal expel neuropathetic
a littoral accounting of every time i change
my self to be some one else put it on
cake walk genocide dreams where the snake
no more a symbol than the pallor i see when
i sleep just the right amount of disheveled
alongside my character she represses longing
regresses back into the suitcase sermon compendium
When I read my friend's poems, my skin moves. The poems are in the experience of being taken apart in excruciating wakeful alertness to the little "i." I could never understand how these poems can be read in terms of procedure or constraint. Although erica, herself, writes frequently of "prosthesis," I read the cyborg elements of the poems as material elements of contemporary nightmare, in which the spiritual and sensual longings that make the flesh crawl with desire are forbidden, are made out to be concepts. Thinking machine.
What is the difference between my erica kaufman and erica kaufman's character? I have no idea. What I have learned in comradeship with this extraordinary, real person, erica kaufman, is that we are connected over the divide of our different capacities for thinking and ways of seeing the world; we are together in a pledge to share our possesssions and spiritual resources so that we are both able to survive attacks on our basic ability to live that sometimes come from the traditions that make our existence and our work possible. I love erica outside of any tradition, although I read her as a sister, where it is possible to choose.
We are not eye to eye; I do not even know where her eye is, most of the time. And yet, our projects are the same, she and I in different/harmonious relations with time and darkness.
Simone White was born Middletown, Connecticut, and raised in Philadelphia. She earned her BA from Wesleyan University, JD from Harvard Law School, and MFA from the New School. White is the author of the full-length collection House Envy of All the World (2010) and the chapbooks Dolly (2008) and Unrest...