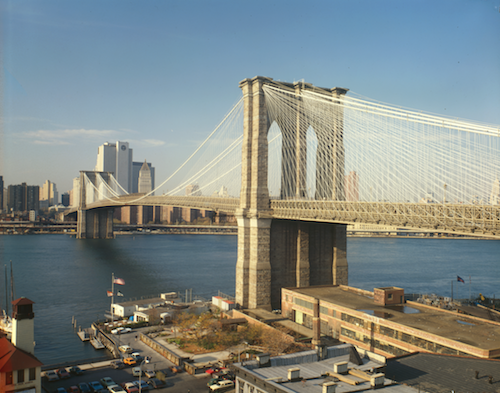 No better way to honor poets than following poets in a procession across the majestic Brooklyn Bridge. Poets House sure has the right idea! Join Poets House, on Monday June 9th at 6:30, in honoring Naomi Shihab Nye, who will receive the Elizabeth Kray Award for dedicated service to poetry, and Mark Doty, Thomas Lux, Vijay Seshadri (winner of the 2014 Pulitzer Prize in poetry), featured poets in this year's festivities. From Poets House:
For almost two decades, Poets House has mounted the Annual Poetry Walk Across The Brooklyn Bridge: Great poets lead a grand procession of ticketed poetry advocates as well as curious tourists and Brooklyn-bound commuters across the bridge, stopping along the way to read out poems―new and classic―that illuminate New York's great poetic heritage and provide a fresh perspective on the city from atop one of its greatest monuments.

"The best way to discover poetry is through unexpected, positive exposure," says longtime Poets House executive director Lee Briccetti. "The Bridgewalk is a great way to bring the transcendent, transformative 'ah-ha!' of poetry to an unsuspecting public while at the same time providing an only-in-New-York poetry event for the art's most ardent supporters."

This year's featured poets are Mark Doty, Thomas Lux, Vijay Seshadri (winner of the 2014 Pulitzer Prize in poetry), and Naomi Shihab Nye. The walk begins at 6:30pm in the small park just outside of the Municipal Building at 1 Centre Street. Readings take place in the park and on the Bridge and culminate with a sunset reading of Walt Whitman's "Crossing Brooklyn Ferry" by Mark Doty near Jane's Carousel in Brooklyn.

A celebratory dinner and more readings will follow at 26 Bridge, a historic foundry-turned-event space in DUMBO. Among the festivities, Naomi Shihab Nye will receive the Elizabeth Kray Award, Poets House's biennial prize for dedicated service to poetry. Kray, cofounder of Poets House with two-time Poet Laureate Stanley Kunitz, managed the speaking careers of luminaries including E. E. Cummings, W.H. Auden and Edith Sitwell, and was, from the 1950s until her death in 1987, a visionary arts-manager who created diverse venues in which the public could appreciate poetry―from her storied "invention" of the modern poetry reading series to the development of literary walks and talks in the city, to her early work in creating Poets-in-the-Schools programs.

Naomi Shihab Nye is also an acclaimed educator and advocate as well as an award-winning anthologist for adults and children. Her experiences as an Arab-American inform her deeply humanitarian writing; Nye's mentor, the poet William Stafford, called her "a champion of the literature of encouragement and heart." She has traveled all over the country leading workshops for children and adults that aim to help them apprehend poetry with pleasure and understanding. She is author of numerous books of poetry, most recently Transfer (2011), as well as books of poetry and prose for children.

The Poetry Walk is an annual benefit for Poets House, and all proceeds support its programs and services, many of which are free to the public. Tickets for the Bridgewalk and dinner begin at $250 ($225 for Poets House Members). Reservations are required. For details or to make reservations, contact Krista Manrique at (212) 431-7920, ext. 2830 or [email protected]
More details at Poets House!