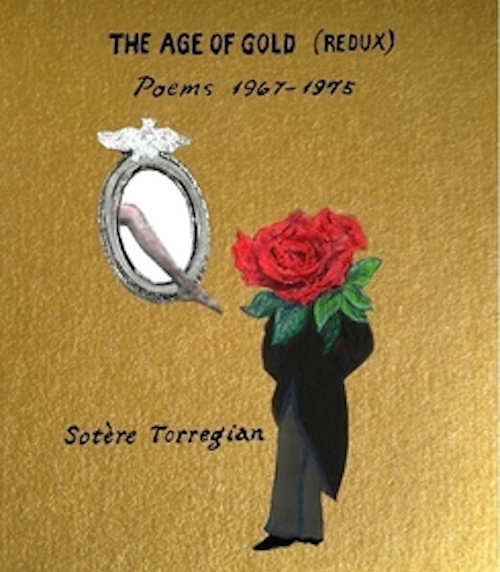 Garrett Caples writes for the City Lights blog about Sotère Torregian, "the Newark, NJ-born California surrealist by way of the New York School." Torregian has just published a "welcome companion" to his 2012 Coffee House book, this time with Richard Waara's surrealist press, Rêve à Deux. The Age of Gold (Redux): Poems 1967-1975 is a revised edition of Torregian's seminal book of poetry The Age of Gold (1976); and it includes a manifesto in protest of the Whitney Biennial, which Caples posts. Excerpt:
Art, what you call "Art" is going on beyond your conceptions—Au delà, Beyond the walls of your galleries and museums: Art IS HERE where I am. I speak it each day. In turn it speaks Ancient Egyptian, modern Bambara and Amhara. It speaks in every word André Breton ever wrote.

Thus, AU CONTRAIRE!

—Inscribed in the journals of Arshille Gorky; evidenced in the paintings of Gorky and those of Jackson Pollock.

It is they who lead the Maelstrom, the Siege of the Citadel.—Avant! Avant!

Yet despite all philistinism Je t'aime. JE SUIS L'ART.

I am sure Le Grande Artiste, the Cookie Monster, would agree with me.

Respondez s'il vous plaît
P.S.

My tall next door neighbor's long lovely legs. I am sure the rocks are happy as she walks on them. Alors, même que je suis encore fatigué. Alas I am not a Czar so I can't sweep her off her feet. She knows nothing about Art. She is one of the tribe of technophiles, digitalized.

But there goes Art (in her) although it knows it not—The Unknown, the Nameless One (I do not know her name or station in life)….but that she goes into a house and emerges therefrom,–onto the thoroughfare, past this window from time to time.