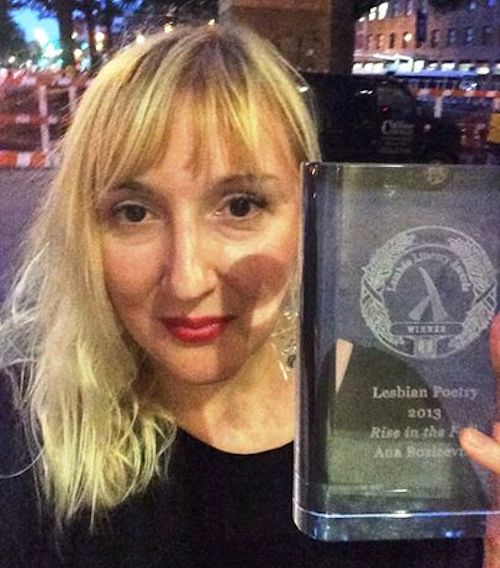 The 26th Annual LAMBDA Literary Awards were held last night in New York City, and to our delight, drumroll: The winner for Best Lesbian Poetry is Ana Božičević, for her book Rise in the Fall (Birds LLC 2013)! And winner of Best Gay Poetry is Rigoberto González, for Unpeopled Eden (Four Way Books 2013)!
Serious congratulations to you both. Coldfront put up a view of the Twitter reactions.
And speaking of Ana! Just the other day, her poem "Buffet of Air" was made exemplary of visual illusion by Genevieve Manset at the blog STEM & Leaf ~ where poetry intersects with science. Manset writes:
In poetry, we are drawn forwards with our natural inclination to make meaning, and when a leap is made to unexpected imagery, there occurs a shape-shifting, mysterious voices, whirling and tilting. We are caught and pushed into perpetuating the illusion.

A beautiful example of this is here in Ana Bozicevic's poem "Buffet of Air." She grabs our vision in the first lines and turns it to the sky and stars, then falls away unexpectedly, to her broken tooth. Unbalanced, we are propelled forward as she shifts into Poldie the dog, wandering the streets, and we are with her, spying on humans she passes by. Search out her poems. Ana Bozicevic's poetry will make you spin.