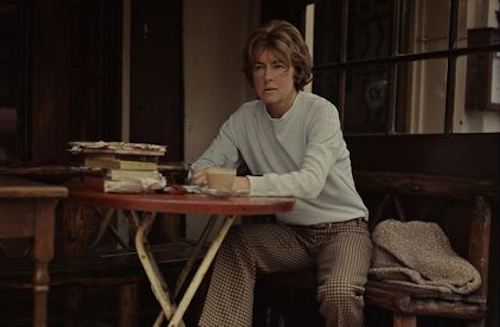 "She later attributed her next life disaster to difficult Taoist eye exercises, which involved staring for hours at a blank wall, turning the eyes in and looking intensely at bright objects. In 1977, on New Year's Eve, she was admitted to Middlesex hospital for emergency operations on detached retinas in both eyes." Yes, it's a must-read at The Guardian about the mysterious Rosemary Tonks, a UK poet who "disappeared" in the 1970s, leaving the London literary world to mythologize and speculate for decades, and who died in April at age 85. "As the poet Brian Patten put it in a BBC radio feature about her in 2009, she 'evaporated into air like the Cheshire cat'." More from The Guardian's Neil Astley:
Known only as Mrs Lightband, the married name she had kept, she moved into Old Forest Lodge, an unremarkable three-storey house tucked away behind Bournemouth seafront, in 1981. There was no nameplate or number on the front door or garden gate; the curtains were kept closed, and neither knocks on the door nor letters were answered. Here she established her new identity, which meant turning her back on anyone connected with her old life, whether literary friends or family. I let her know about the radio programme – both the first broadcast and the repeat – by postcard, in case she threw letters away without opening them. I've since learned that she had two radios and two televisions, so she wasn't totally out of touch with the outside world; it was just that she chose only to engage with it on her own terms.
And earlier:
Between 1963 and 1974, she published two epoch-defining poetry collections and six acerbic, satirical novels; wrote trenchant reviews for leading journals and newspapers; and collaborated with the BBC Radiophonic Workshop on an experimental sound-poem, "Sono-Montage".

Menard Press's Anthony Rudolf praised the "visionary quality" of the poems she published in Notes on Cafes and Bedrooms (1963) and Iliad of Broken Sentences (1967): "They seem to me to have bypassed the Movement poetry of the 1950s and to have emerged from the 1940s poetic matrix of Nicholas Moore, George Barker and JF Hendry, poets she would have read in her early 20s. It is a hyper-urban angst-ridden poetry, with ancestry stretching back to Baudelaire's Spleen de Paris and the Francophile English symbolists."

[...]

Living in Hampstead and mixing with socialite writers such as Dame Edith Sitwell, a near-neighbour, Tonks became the toast of London's literary parties, one of very few published female poets of that time. She was not noted for supporting the sisterhood, however, and was taken to task by Jane Gapen in the New York Review of Books for an unsympathetic review of Adrienne Rich's Diving into the Wreck, which "should be reviewed from a feminist outlook … It really hurts that a woman would say this about another poet".
The Guardian also posted a poem by Tonks, "Addiction to an Old Mattress." Thanks to poet and publisher Shanna Compton for pointing us to the poet in the first place. Compton! You also unearthed the invaluable Joan Murray. We're keeping our retinas on ya, eek.