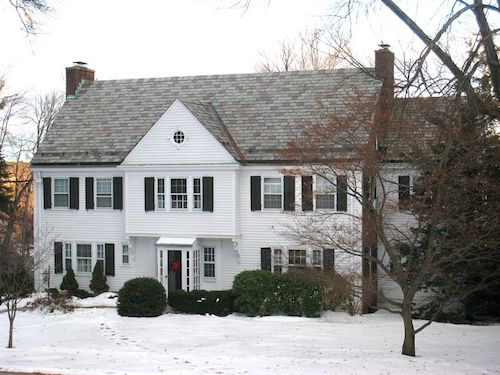 Indeed, the Hartford, Connecticut house Wallace Stevens lived in while working as an insurance agent and writing his cherished verses is now on sale. If you have a spare $489,900 laying around, it could be yours! Now for the brass tacks about this 1920s Colonial:
The 3,900-square-foot home on Westerly Terrace has six bedrooms and three bathrooms under a slate roof and is built on a half-acre in one of the city's most exclusive neighborhoods. The front entry foyer is ample, giving visitors a first look at stately wainscoting that is repeated throughout the three-story house.

But the home -- owned by Christ Church Cathedral in Hartford since Stevens' death in 1955 -- is a bit of a fixer-upper, with updates needed in the kitchen and bathrooms. None of the furniture that remains is vintage Stevens, but a biography of his life has been casually placed on an enclosed cast-iron radiator in a first-floor sitting room, a nod to the home's provenance.

The cathedral decided to sell the house -- its brass door knocker is inscribed with the word "deanery" -- because priests now prefer to buy and live in their own homes, said Leslie Jones, the cathedral's administrator.

Since the property was listed Sunday morning, there have been six showings and more have been scheduled, according to Paula Fahy Ostop, a real estate agent with William Raveis in West Hartford, who has the listing.
Make your way over to Insurancenewsnet to read more of what Stevens thought about his lifelong home.