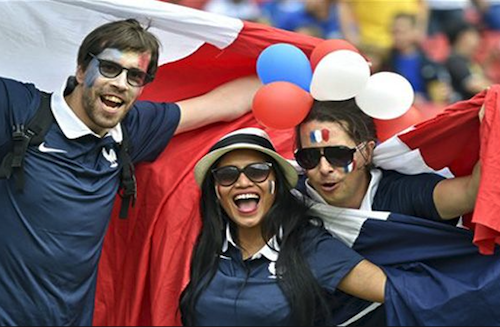 Tomorrow is the big day. We have France v. Germany followed by Brazil v. Colombia—does life get any better than this? Not if you're a bona fide soccer fanatic like Charles Simic. You can read his "confession" today over at The New York Review of Books. And also learn that Octavio Paz wasn't a fan so much. A sliver:
As hard as it is to comprehend, there are human beings on this planet who have no interest in the World Cup. Not just in the United States, where many sneer at this foreign import and find the global passion for the game incomprehensible, but also in countries where the fate of the national team in such a tournament is the sole topic of conversation for months. I remember visiting the great Mexican poet Octavio Paz in Mexico City on the day his country was playing Italy in the 1994 World Cup. At first, we lolled around for a couple of hours, sipping wine and having a leisurely chat about literature and art. But to my surprise and distress, when the time came for the game, instead of turning on the TV, Paz and his wife took me and my Mexican translator to a French restaurant where we sat surrounded by empty tables, because everyone else in Mexico that evening was either at home watching the game or in one of the big plazas in the city seeing it on a huge screen. As we got into an argument about Heidegger, I recall cheers and gasps of collective disappointment reaching us from the vast crowd gathered outside. Desperate to find out the score, I kept going to the bathroom so I could peek into the kitchen where the cooks and the waiters were watching the game. I have no memory of anything Octavio said that night, and I sincerely regret that, because he was the most learned and articulate man I ever encountered in my life. But I do remember the final score: Mexico one; Italy one.
Read on! Oh and find time for the 4th too, if you can.