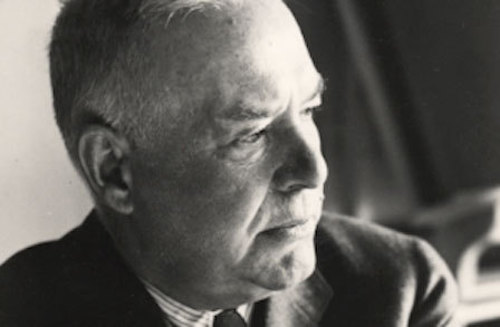 An update on our story from a few weeks ago: a group of investors, and avid Wallace Stevens fans, have come together to purchase the poet's former Hartford, Connecticut home with the hopes of opening a Wallace Stevens museum. Among the investors is Stevens's grandson, who owns some of the original furniture from the house. More from CTNow:
Alison Johnson, author of a book on Stevens' life and leader of the group, confirmed the plans Wednesday. She noted that the investors include Stevens' grandson, who still owns some of the original furniture from the Westerly Terrace home.

"There are those among us that are just devoted to Wallace Stevens," Johnson, who lives in Topsham, Maine, said. "We think his poetry is just magnificent."

Johnson said she believes visitors to Stevens' home — where he lived from 1932 until his death in 1955 — would get a glimpse at where the poet, sometimes considered solitary, even prickly, spent his day-to-day life.

"They will come away with a different view, and admire him as person after they leave," Johnson said.

Johnson said the sale could close as early as mid-August, pending appraisals and other requirements.
But it's not all rosebuds and lollipops! Meaning, the Wallace Stevens museum is far from being a done deal:
There are still significant challenges to opening the museum. Johnson said the investors plan to hold the 1920s Colonial for just 18 months before it would be transferred in a sale to a foundation that would manage the museum and its upkeep.

To do that, the foundation must raise about $500,000, Johnson said. If those efforts fail, the Stevens house would go back on the market, she said.

The total that needs to be raised reflects the decision by the group to pay the listing price of $489,900. Johnson said the group didn't want to wait to negotiate on price because the list was "low enough that it would go quickly."
Head over to CTNow to learn more.