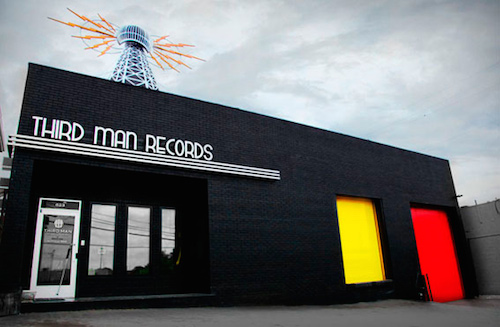 Ha, SPIN knows how to throw a first sentence: "Continuing his love for all things old-timey, Jack White has announced the creation of a new publishing company." Hank Williams even wrote a song about it? Rolling Stone also has a piece on Third Man Books--the new publishing wing of White's Nashville-based Third Man Records--which will launch on August 5 with a BOX SET called Language Lessons: Volume 1, "featuring a 321-page hardbound collection of prose and poetry and two vinyl LPs." Do go on:
Language Lessons was co-edited by Third Man's Ben Swank and Chet Weise, a poet, musician and founder of the Nashville literary event, Poetry Sucks. The book is packed with new pieces from more than 20 acclaimed authors including Pulitzer Prize nominee in fiction Dale Ray Phillips; C.D. Wright, a National Book Award Finalist and National Book Critics Circle winner in poetry; and Adrian Matejka, a National Book Award and Pulitzer Prize finalist in poetry. Punk godfathers Richard Hell and Tav Falco also contributed non-fiction pieces.
And SPIN writes:
Of course, Since White is involved, there was no way this thing could be just a book.

Language Lessons doesn't have a hologram and it isn't filled with any noxious liquids, but the 321-page hardback will come with two vinyl LPs of music, featuring unreleased tunes from former SPIN profile subject William Tyler and the ripping desert-punk combo Destruction Unit, among others. There'll also be five pieces of frameable broadsides of poems by C.D. Wright, Frank Stanford, Brian Barker, Jake Adam York, and Chet Weise.

In addition to those authors, the book will also feature unpublished work from writers such including Steve Stern, Sampson Starkweather, Joshua Marie Wilkinson, TJ Jarrett, Janaka Stucky, Sommer Browning, Gaylord Brewer, Dan Boehl, and Ben Mirov.
A preview of the not-just-a-book is set for July 26 at the Newport Music Festival, where White will be headlining, and with featured readings from editor Weise and other contributors Zachary Schomburg, Joshua Marie Wilkinson, Janaka Stucky, Sampson Starkweather, Paige Taggart and Kendra Decolo. We've also heard tell that Small Press Distribution is in talks with Third Man to distribute, so there's one more coup in the ring for us old-timey sorts.
Here's the official notice from Third Man Records. "Third Man Books, like Language Lessons, will be fearless, imaginative, and eclectic. We hope to be a welcome addition to what is already a very compelling and thrilling independent American literary landscape."