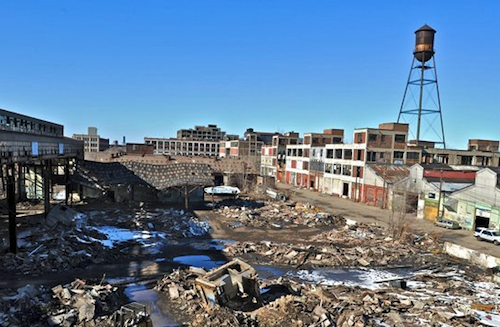 This week at Best American Poetry blog, Rochelle Hurt examines the aesthetics of ruin. As a native of Youngstown, Ohio, Hurt looks at the trend of ruins in contemporary writing through rust colored lenses. She writes: "Lately, I've been thinking about what this region has to say for itself in contemporary poetry, and I'm clearly not the only one thinking about this. There has been a spate of new books about the Rust Belt in the last few years, and some interest in a new subgenre sometimes called Rust Belt Noir and/or Rust Belt Gothic (no vampires needed). While most of these books are novels or collections of short fiction, many poets have also been increasingly concerned with post-industrial ruin."
Part one digs into Jamaal May's 2013 book Hum, which takes post-industrial Detroit as its mise-en-scène. Hurt writes:
What's dead and gone never stays buried in this collection, as the motif of alternately burying and uncovering returns almost obsessively. There is something unsettling about this act, but it is what allows May's speaker to learn how to live in his particular –post (post-industry, post-adolescence, etc.). This digging isn't entirely negative, nor is it simply a balm.

Writing about the Rust Belt can be understood as a form of apocalyptic writing. (I know that for Youngstown, the sudden closing of steel mills on Black Monday was certainly an economic apocalypse.) The word 'apocalypse' shares roots with the Greek term apokaluptein, which indicates an uncovering or disclosure (think also of the word 'revelation,' as in the Book of Revelation). A new generation of writers in the US has set to work digging through the ruins of the industrial economy that was collapsing just as they were being born, and they are unearthing revelations of their own.
Hurt picks through the rubble in May's poetry with some close readings and sees, overall, "no satisfactory answer to be found in the wreck, yet there is no way to live in it without searching, digging, trying to uncover and recover the past."
If that's not rusty and dusty enough, head to Hurt's second post on the post-pastoral, which was published today, and features close readings of poems by Traci Brimhall and Joyelle McSweeney.