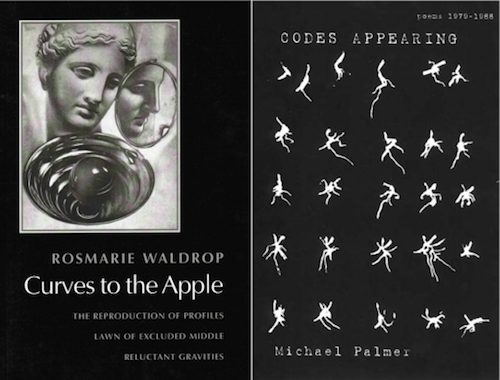 You know you've made it when...The New Directions blog gets an annotated look at Ben Lerner's bedside table! Sorry, nightstand! The favorites are: "My sense of the possibilities of language is so inextricable from the New Directions list that I find it almost impossible to pick favorites." Wait, hang on:
Rosmarie Waldrop – Curves to the Apple

Rosmarie Waldrop's trilogy of prose poems takes the syntax of philosophy and makes it sing. These books are—among many other things—masterpieces of lyric piracy. I return to this book as often as I return to any other volume of poetry. For its sentences and the silences she makes you feel between them.

Michael Palmer – Codes Appearing

I'll just say of this gathering of three incredible books: only a poet capable of writing as beautifully as Palmer can make poems that investigate the limits of poetry so powerfully.

Nathaniel Mackey – Splay Anthem

Mackey's combination of erudition and musical ability makes his ongoing serial works at once epic and intimate. In his hands the smallest differences between sound and sense scale into book-length architectures. The controlled political rage in "Splay Anthem" stays with me particularly.
Tis not all. Read on at New Directions.