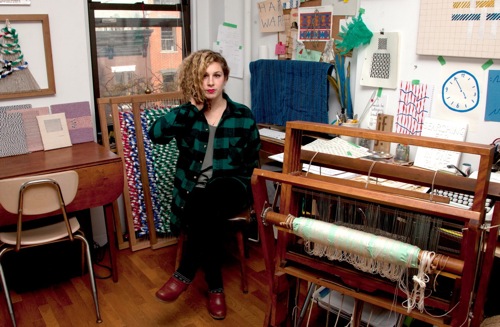 We're quite taken with "Deciphering the Language of Fabric," the Poor Claudia Ten Sources contribution from artist/poet (and current resident at the Josef and Anni Albers Foundation) Francesca Capone. "...[Ten] Sources is a review of texts, concepts, and sensory mediums writers are actively encountering. The desire for this series is to eavesdrop on the observant, curatorial, and thoughtful 'reading' practices. We're interested in how writers are discovering the odd, recovering the past, and expanding the imagination."
Capone's piece, which responds to a sequence of images mostly locked into the complex art of weaving ("Seeing this as a gesture of drawing in thread"), is also immediately compelling because of the kind attention (her prose has a very kind attention, in general) she brings to Elizabeth Parker:
Elizabeth Parker, it is impossible not to feel sympathetic towards you after reading your embroidered diary entry from 1830, England. Let us consider what she pleads mercy for: (1) Attempting to write, (2) quitting her first job when she was 13, (3) working for an abusive man, (4) disobeying her parents, (5) falling ill with depression, (6) attempting to commit suicide, (7) continuing to harbor suicidal thoughts, and (8) being an unworthy sinner. I think of publishing as an act of repentance. This embroidered cloth is her prayers manifested, her confessional.
Read it all at Poor Claudia. And check in with Francesca as she blogs for Textile Arts Center.