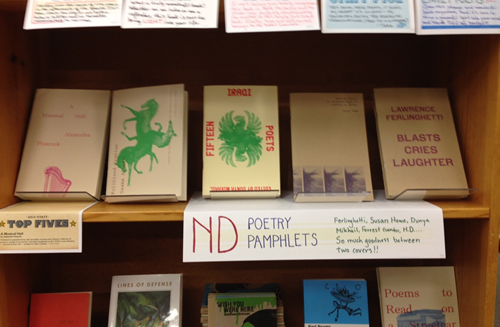 At Rain Taxi, Benjamin Paloff delves into the history of New Direction's Poetry Pamphlet Series. The series, first introduced in 1941, returns, after a prolonged hiatus, with "beautifully printed" pamphlets beyond ND-devotee's wildest dreams. From Rain Taxi:
1945 came late this year. It was four years earlier, in January 1941, that New Directions introduced The Poet of the Month editions, billed as "A Series of Poetry Pamphlets," with William Carlos Williams's The Broken Span. The idea was to publish twelve slender volumes a year, thirty-two pages each, saddle-stapled, "as beautifully printed," the original brochure promised, "in fact, more beautifully printed, than most expensive books." With a mix of American and European poets, new and old, in its first three years the Poet of the Month pamphlets featured work by John Donne, Rainer Maria Rilke, and Raphael Alberti. Then, after three and a half dozen issues, this experiment in subscription publishing came to an abrupt end.

Or perhaps it would be more appropriate to say that it went on extended hiatus. For the Poetry Pamphlets series, which recently completed its first year-long run of twelve titles, clearly continues the earlier program—conspicuously, one might say, were it not for the fact that for most readers today The Poet of the Month might as well not have existed. Printed before the invention of acid-free paper, the pages of the original series have yellowed, their staple-binding rusted. By comparison, the Poetry Pamphlets are sturdy and sleek, with two-tone covers printed on heavy Speckletone paper and a heft that, with most of these volumes exceeding the 48-page limit set by UNESCO, stretches the definition of "pamphlet." For the exteriors, New Directions has enlisted The Office of Paul Sahre, one of the best design studios around. These are books. [...]
Dive into school at Rain Taxi! And if you're looking for a preview of one of the pamphlets, head to our Poets in the World page to read Fifteen Iraqi Poets, edited by Dunya Mikhail.