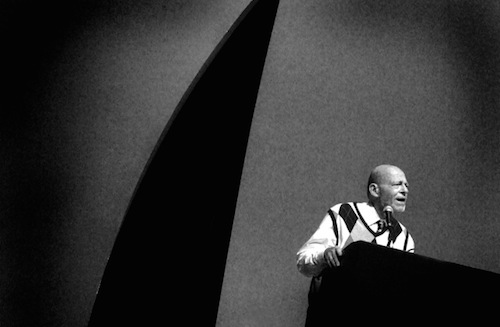 At Coldfront, Eric Dean Wilson reviews Richard Howard's newest collection of poems: A Progressive Education.
Fans of the "School Days" sequence in Richard Howard's 2008 National Book Award-nominated Without Saying will be glad to see that his newest collection, A Progressive Education, comprises a more in depth visit to the students of Park School, a "progressive education" middle school. Several poems are identical to sections in the original sequence, but in his new book, Howard broadens the character base. Notably, he has also moved his cast of students from fifth grade to sixth grade, with poems that used to say "fifth grade" now saying "sixth grade," a harmless change that does not disrupt the acute syllabics the poet is famous for.

Growing up in Cleveland, Howard attended a similarly Dewey-inspired institution. He has said that the new book "involve[s] the disciplines and exemptions, as well as the vocabulary and, of course, the dramatis personae, of his own schooling." Acting as a kind of precocious Greek Chorus, the Sixth Grade Class en masse periodically writes a letter to their headmaster, Mrs. Masters. They exalt, they tattle, they whine, and they preach, digesting the week's field trip or student expulsion. [...]
More to mull over at Coldfront!