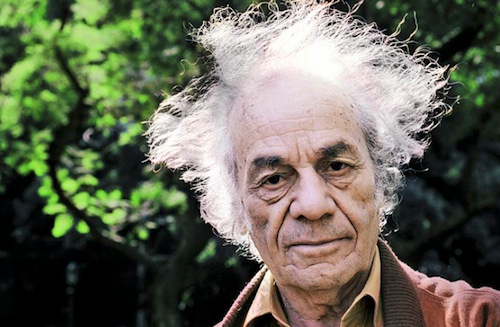 Feliz Cumpleaños! We were reminded that our favorite anti-poet, Nicanor Parra, turns a stunning 100 years old today. And we're told he's relatively spry and still writing! Chileans are rejoicing and celebrating Parra's big 1-0-0 with a mass reading. From Telesur, from yesterday:
Tomorrow, Nicanor Parra turns 100 years old. He has always been reluctant of attending homages in his honor, and he will surely be privately celebrating his birthday in his house, in Las Cruces, Chile.

The Chilean Council for Culture and Arts has organized a massive reading, on Friday at noon (16:00 GMT), of Nicanor Parra's celebrated poem, "The Imaginary Man." The event has been called "National Parra-phrasing".

Claudia Barattini, Minister of Culture said "it is [a] moment to thank Nicanor Parra for the amazing work he has gifted to us. This will be the most homely, civic and personal homage we can offer him."

The President Michelle Bachelet will lead the reading of "The Imaginary Man," considered one of the most beautiful, deep and disturbing poems ever written in Latin-America.

The president of the Supreme Court of Justice along with all the Ministers will join the "National Parraphraising" via live-stream from the Palace of Justice.
Remarkable! Make the jump to read "The Imaginary Man." And if that's not enough Parra for you, at Circumference, Iris Cushing writes about Parra's life:
Parra has been cutting vivid shapes from the fabric of Latin American poetry and poetics since 1937, when his first book, Cancionero sin Nombre, appeared (Pablo Neruda's book responding to the Spanish Civil War, España en el Corazón, appeared a year later). He went on to study physics and cosmology at Brown and Oxford, and teach those subjects at universities in Chile. Parra's deceptively plain, deadpan voice has long confronted the various status quos of pop culture, literary canons, academia and politics. Having lived and written through the 17-year U.S.-backed Pinochet dictatorship, Parra has penned postcard-sized lyrics and drawings responding to situations as diverse in time and space as the U.S.'s embargo on Cuba and the war in Iraq. Throughout all his work runs a compassionate entreaty to consider poetry as a means for rethinking the world. "A poet is not true to his word/If he doesn't change the names of things," he writes in "Changes of Name" (trans. W.S. Merwin, in Poems and Antipoems, New Directions, 1967).
Cushing goes on to talk about another way Chile is celebrating Parra's centennial:
...Chilean press Ediciones Universidad Diego Portales is releasing a long-lost long poem by Parra, titled Temporal. Written in 1987, the poem was lost by Parra in the chaos of the end of the Pinochet regime. However, Parra's secretary, Adán Mendez, recently discovered cassette tapes of Parra in conversation with critic Rene de la Costa in which he reads the entire piece aloud. Mendez transcribed the poem from audio. The unlikely survival of a great poem in the body of a now-obsolete technology seems perfectly appropriate to Parra's style.
There's more at Circumference!