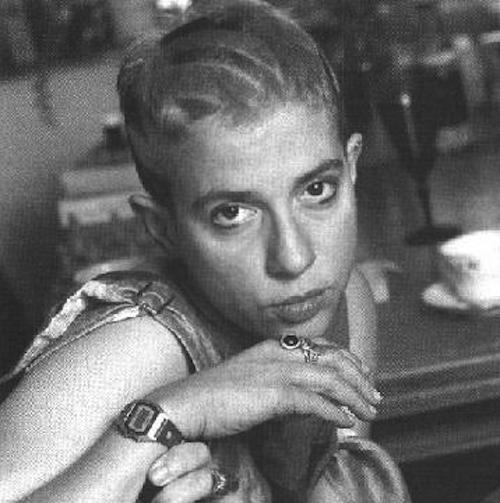 Frances Farmer Is My Sister is back! For today. Kate Zambreno has posted an excerpt of a forthcoming essay on Kathy Acker, to be in book form soon in Feminist Press's ICON anthology, edited by Amy Scholder, with contributions from Justin Vivian Bond, Johanna Fateman, Jill Nelson, Rick Moody, Mary Gaitskill, and others. An excerpt of the excerpt:
All summer I kept on thinking of one of Jenny Holzer's texts: "IN A DREAM YOU SAW A WAY TO SURVIVE AND YOU WERE FULL OF JOY."

Kathy Acker lived in the same building as Holzer.

"Who can think about art in this miserable city?" In Adult Life of Toulouse Lautrec Kathy made the painter a horny, ugly, alienated girl. New York City is Montmartre.

Early on in the work there is an alive and raw quality, a psychotic feralness. But this feels like a shift from hackneyed copies and repetitions, of her early experiments where a girl finds herself in satire, pulp fiction, in a juxtaposition with pornography. This is the movement when the "I" is and is not Kathy anymore. Raw and abject diary entries, yet filtered through art history and persona, destabilizing everything and giving it this A effect.

"I'm a total hideous monster. I'm too ugly to go out in the world… I'm extremely paranoid. I don't want to see anyone. I'm another Paris art failure. I'm not even anonymous. All I want is to constantly fuck someone I love who loves me." She writes that "To survive in New York is to be a little like those hamsters on a wheel, the wheel turns faster and faster." This is why she left, moved to London. She didn't have to subsist on being a parasite or fame-whore (although she did that too).

*
New York is exhausting and weird. I walk around Soho and look at all the rich bitches who are glacial in the extreme heat, wearing long sleeves. I realize either they are aliens, or I am. What is it like to be so good-looking and gentrified?

Unprofessional notes from a book proposal I tried to write this summer: "I want to write about feeling dirty and sweaty and gross in public as a woman and writer, like a witch."

[...]

I get my haircut like David Wojnarowicz's hollowed Rimbaud photograph. I go to a salon that all the other feminist writers on the Internet in New York City go to as well, run by a former riot grrrl, who is also a feminist writer on the Internet. My models for haircuts are often writers I want to emulate—like Ann Quin's lovely proud brunette head, or Gertrude Stein in Balmain, or wrinkly Samuel Beckett. These are often links I send to the photographer who needs to take my new author photo. I also send Robert Mapplethorpe photos of a young feral Patti Smith, and photos of an older Patti Smith, and Hujar's Susan Sontag reclining on the bed. I feel that's the image I want to project—fierce and striking, maybe scary. Intelligent and severe but also light, pretty, witty (cute). I am not sure which self I am anymore. I want to be ugly and bold, and then I want to be pretty and young.

Kathy again: "I don't know how to present my image properly. When I'm with people, I either act like a changing wishy-washy gook or like an aggressive leather bulldog."

I have been sending little emails to myself thinking about this essay and this summer.

In the subject head: Identity Crisis. In the body: What does that mean?
This piece reminds us of course of Acker's essay concerning "the picture of the antagonism between bodybuilding and verbal language," in "Against Ordinary Language: The Language of the Body." Zambreno will be talking with fellow Icons contributor Johanna Fateman and editor Amy Scholder at Bluestockings in NYC on October 8.