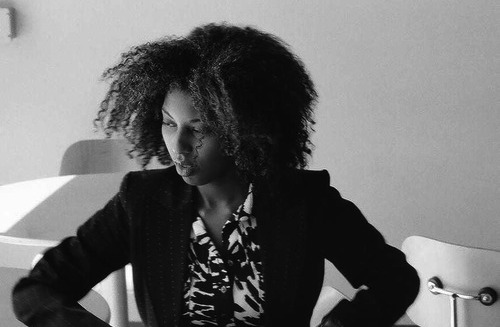 Hurrah! She's the queen! Congratulations to Ms. Khadijah Queen, winner of this year's Leslie Scalapino Award for Innovative Performance Writing. This prize, in memory of Leslie Scalapino and her commitment to experimental writing and performance, includes a $2,500 cash prize, print publication by Litmus Press, a staged reading of the piece by Fiona Templeton's company The Relationship, and a full production of the work in the following year. The next submissions cycle will be in 2016.
More from the web presence of The Relationship:
Announcing the 2014 WINNER

NON-SEQUITUR by KHADIJAH QUEEN

The award will presented,
with a reading of the play directed by Fiona Templeton,
on Monday November 17th at 8:00pm
at the New Ohio Theatre,
154 Christopher Street, New York NY 10014

We are thrilled to announce another fabulous winner, for the 2014 Award. The judges were unanimous in selecting Khadijah's play, Non-Sequitur. We found it experimental in conception, language and performance approach, and by turns hilarious and moving.

Khadijah writes: NON-SEQUITUR concerns a large group of abstract/conceptual characters and objects carrying on apparently unrelated conversations and making various observations about the larger world. The play explores the relationship between body and text/speech, how the body mediates thought, feeling and perception, enacting unconscious drives and performing /interacting with stereotypes in absurd, unexpected ways.

Uninhibitedly funny and raucously sharp, NON-SEQUITUR invites the audience to fill in the considerable gaps between rhetoric and truth, creating a space for them to draw their own conclusions and trust their own instincts regarding the play's wild demonstrations of the ridiculousness and pervasiveness of bias.

Khadijah Queen is the author of two poetry collections: Conduit (2008) and Black Peculiar (2011). Individual poems and essays appear in jubilat, Aufgabe, Best American Nonrequired Reading, Rattle, The Force of What's Possible and widely elsewhere. She is a Cave Canem alum and curates the multigenre reading series, Courting Risk.
Read more, including the very impressive list of finalists, at The Relationship.