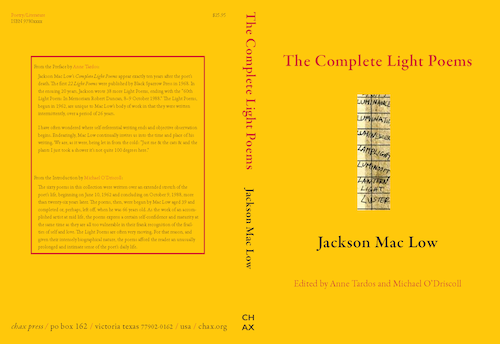 We don't usually cover book releases (they are so plentiful!), but this one is noteworthy. Why yes, it's Jackson Mac Low's Complete Light Poems, now in a "Deluxe Casebound Fanbinding Edition in Box" for $425! There's also a lovely paperback edition, for the thrifty set. Edited by Anne Tardos and Michael O'Driscoll and published by Chax Press, Complete Light Poems "appear exactly ten years after the poet's death," as Tardos notes in the preface. "The first 22 Light Poems were published by Black Sparrow Press in 1968. In the ensuing 20 years, Jackson wrote 38 more Light Poems, ending with the '60th Light Poem: In Memoriam Robert Duncan, 8–9 October 1988.' The Light Poems, begun in 1962, are unique to Mac Low's body of work in that they were written intermittently, over a period of 26 years."
I have often wondered where self-referential writing ends and objective observation begins. Endearingly, Mac Low continually invites us into the time and place of his writing. We are, as it were, being let in from the cold: "Just me & the cats & and the plants I just took a shower it's not quite 100 degrees here."
Purchase your copy in advance for a discount price here, or order at SPD. In the meantime, here are nine light poems.