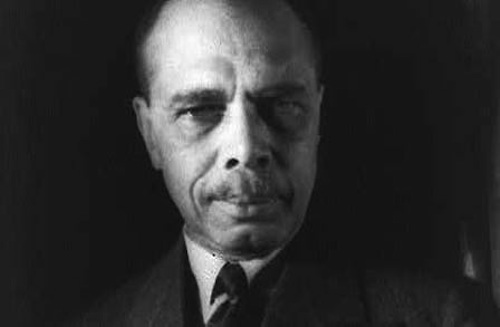 This afternoon is the perfect time to put on headphones and listen to some newly digitized recordings of James Weldon Johnson reading his poetry, courtesy of PennSound, and with many thanks to life-saving digitizer Chris Mustazza. Mustazza provides some background on the provenance of the Johnson recordings:
These recordings of James Weldon Johnson were made on December 24, 1935 at Columbia University and are part of a larger collection of recordings known as The Contemporary Poets Series. Johnson is the only African American poet in the series, which ran from 1931 through the 1940s. The addition of the Johnson recordings to PennSound is crucial for a number of reasons, one of them being the function of Johnson's poetry as an ethnographic preservation of culture through the transduction of the sounds of language.
In the recordings, Mustazza sees Johnson working out a proto-Projective Verse of sorts, as "sonic representations and cultural preservations":
The first two recordings in the collection, "The Creation" and "Go Down Death," both from Johnson's 1927 collection God's Trombones, seek to preserve the sounds of African American folk sermons of the early 20th century. Johnson's poetics in the introduction to God's Trombones speaks extensively about how these poems are a visual representation of the sounds of the preachers of the sermons, a kind of musical score and libretto. He works to represent the cadences of these dynamic sermons through punctuation and lineation, with em-dashes representing a pause longer than a comma, and line breaks an even longer pause. In this regard, Johnson's work serves as a kind of proto-Projective Verse: he scores these poems for sonic representation.
Read more about the recordings here, and tune in at PennSound!