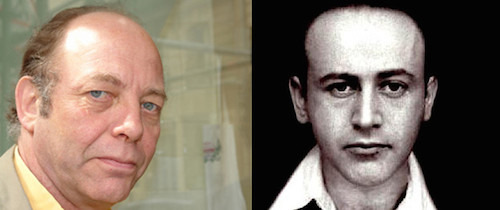 Arlice Davenport of The Wichita Eagle writes about the collected later poetry of Paul Celan, published in December as Breathturn Into Timestead (FSG). Pierre Joris, the translator of this "indispensable, invaluable volume," "preserves the abrupt estrangement of Celan's German from the traditional metrics of his mother tongue," writes Davenport. More:
For Celan, the German language remained rooted in the realm of the dead, the once-beloved legacy of his murdered mother. It was a language that had passed "through the thousand darknesses of deathbringing speech."

This heritage left him in the peculiar position of being alienated from his writing lexicon. As a result, he felt compelled to create his own language, one as exiled as he was, immersed in the dense rhythmic movements of his mature poems, with their mind-bending strain on words; their complex, multiple perspectives; their heightened emotional intensity; their "semantic wrenchings," as Joris puts it.

Celan's new poetics cut his ties to the motherland once and for all, in what he called a Wende, a radical turn from the past.

In 1955, he made the break official, becoming a naturalized citizen of France and spending the rest of his life in Paris as a teacher of German language and literature at the Ecole Normale Superieure. His situation would seem to be a success to almost any poet, but despairing of making an art equal to his memory, he drowned himself in the Seine River in April 1970.

"Sometimes the genius goes dark and drowns in the bitter well of the heart," he wrote. And sometimes the genius creates a feral beauty beyond good and evil.
Read the full review, with excerpts from the book, at The Wichita Eagle.
Image at top thanks to Jacket2, where you'll find audio from a talk Joris gave on Celan's famous speech, "The Meridian," for a 2012 episode of Cross Cultural Poetics.