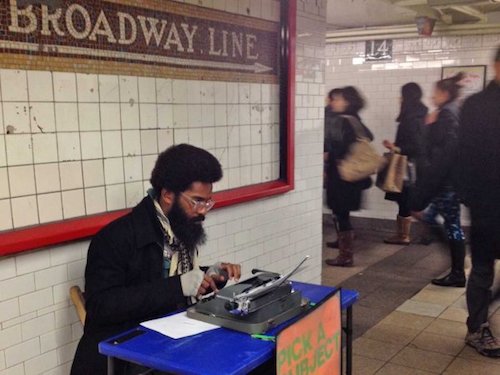 Who knew we'd ever acquire our poetry news from Business Insider, but here you are: Poet Lynn Gentry, who puts together custom poems by the Whole Foods subway in NYC, might be making more money per week from writing poetry than anyone we know...
"I wrote in San Francisco for five years," Gentry explains. "Recently, I traveled across the country, supporting the trip by stopping to write in Seattle, Portland, Reno, Salt Lake City, Cheyenne, Fort Collins, Omaha, Des Moines, Lafayette, and Chicago before arriving in NYC."

Gentry shares that his writing alone brings in an average of $700 per week, and he usually writes about 20 poems a day. He says he earns more in the summer, and estimates that most people pay $5-$10 per poem. The most he's ever been given for a single poem is $122.

Gentry also composes for events and business campaigns, and performs music in a style he calls "electric freak folk." Within the next month, he'll start a crowdfunding campaign to finance his second music album, "Sleeper Birth." You can see his projects and follow his work on his website, LynnGentry.com.

Taking the paper made me realize that I've never touched typewriting before — the letters are pressed into the page, so you can feel them on the back of the sheet. While I'll stick with my computer, I get the appeal.
For pictures of Gentry's poems, and more on the subject, read all at Business Insider. Photograph at top by Libby Kane.