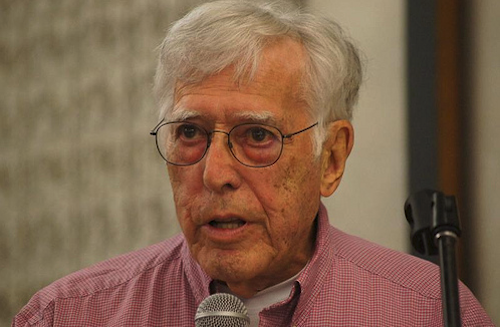 From Garrett Caples at the City Lights blog, we learned the very sad news today of the death of Richard O. Moore at the age of 95. Moore was a pioneering television broadcaster with a long-time connection to the Bay Area poetry world. He was a contributor to this month's issue of Poetry. His latest, and only his second, book will be published next month by Omnidawn. More from City Lights:
It is with much sadness that I have to report that poet and filmmaker Richard O. Moore died on March 25, 2015, a week before the official publication of his new book, Particulars of Place, by Omnidawn. My sadness is inevitably tempered by the fact of his extraordinary and extraordinarily long life and the privilege I had of knowing him over the last five years. For he was truly a great man. Essentially a depression-era orphan, he was sent as a young man to the University of California, Berkeley, and was eventually expelled for protesting World War II, though he was later allowed to come back to complete his B.A. One of the original circle of anarchist poets centered around Kenneth Rexroth in the 1940s—including Robert Duncan, Jack Spicer, Philip Lamantia, Madelaine Gleason, William Everson, James Broughton, and Thomas Parkinson—Richard appeared in such little magazines as Circle, The Ark, and Contour, though he stopped publishing early on to devote himself to a career in broadcasting, as a co-founder of the first U.S. listener-sponsored radio station, KPFA, and later as an early member of the 6th U.S. public TV station, KQED.

Along the way Richard became an important cinéma vérité filmmaker, directing such works as Take This Hammer (1963), featuring James Baldwin; Louisiana Diary (1963), concerning the CORE voter registration drive; The Messenger from Violet Drive (1965), featuring Elijah Muhammad; Report from Cuba (1966), concerning Fidel Castro and the Cuban Revolution; and the 10-part series USA: Poetry (1966), which includes the only sound footage of Frank O'Hara, as well as films of Lawrence Ferlinghetti, Allen Ginsberg, Michael McClure, Robert Duncan, John Wieners, Anne Sexton, Denise Levertov, Charles Olson, Robert Creeley, and many others. He made two films with Dorothy Lange, Under These Trees (1965) and Closer to Me (1965), and two with Duke Ellington, Love You Madly (1967), and A Concert of Sacred Music (1967), and his later series, The Writer in America (1975), chronicled such figures as Toni Morrison, Eudora Welty, and Muriel Rukeyser. During the 1980s, he was president and CEO of Twin Cities Public Television in Minnesota, returning to Northern California after his retirement.
Caples goes on to note: "A reading celebrating the the publication of Omnidawn's Spring list, including Particulars of Place, will take place at Moe's Books in Berkeley, at 7:30 p.m. on Friday, March 27." Read on at City Lights and for poems old and new go here.