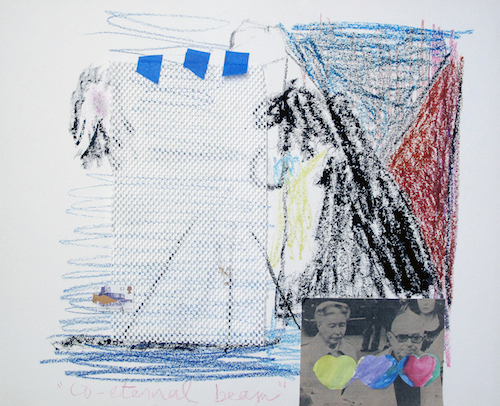 I can't count the number of poetry readings I have been to by Norma Cole and I've attended the odd lecture and occasional play, but there haven't been that many chances, over the years, to go to a show of her art work. There was a major one in 2004/2005 when she was lead artist in the site specific gallery installation Collective Memory at the California Historical Society from December until April, a collaboration with the SF State Poetry Center and American Poetry Archives. That show was a big deal for me, as it was for many people. Norma personally occupied the Living Room part of the installation—which she designed to be like poet's living room in the fifties. You could go there and hang out with her and around her and write and live and many people did.
Last November, Norma was part of an exhibit called Time Silence and the Sky: Norma Cole, Léonie Guyer, Wayne Smith at Margaret Tedesco's [ 2nd floor projects ] in San Francisco. Steve Dickison provided the text for a gorgeous pamphlet, Sound Studio 3 [Liner Notes], produced for the show. Wayne Smith's part of the exhibit was Piano Lake, a limited edition chapbook & sound CD. Léonie Guyer's work was amazing. Though Norma's part of this exhibit was on a more intimate scale than Collective Memory, it was just as big a deal for me. When your BFF is an artist as well as a poet and you get to see her work all at once in a context like that it is—it was for me—an enormous pleasure and a conceptual impact, extending our conversation of several decades in ways that echo back and forth over the years.
In the event, I was initially drawn to a very literary collage in that it contained a phrase from one writer and featured others. Norma Cole borrowed the phrase "co-eternal beam" from Happy Days: The Production Notebook of Samuel Beckett (Becket got it from the third book of Milton's Paradise Lost) to refer to Simone de Beauvoir and John-Paul Sartre in her collage. At first glance, I thought the line, handwritten in red oil pastel, might be "Co-eternal being" though I quickly saw it wasn't. This confusion brought me back to the childhood notion of the "human bean" and I wondered for a moment if she might be going there but, of course, it was "beam" not "bean" and anyway that was too silly. By that time, I was all involved in the hearts, wondering if Norma had painted them or were they from one of her grandchildren? From farther away I had mainly registered the piece as a sort of seascape because of what seemed to be a sailboat in the water against a scribbled sky that appeared on the left side of the collage. I was drawn to the textured rectangle there, made of a sort of open weave material, like a counter mat, secured to the composition by a British 3£ stamp (from Tom Raworth?) and three pieces of blue tape, the mat itself like a sail. But as I got close I found I was peering into the image of Simone and John-Paul, quite old in this photo—a yellowed newspaper cutting—along with the painted hearts and the phrase, written in red, "Co-eternal beam."
I enjoyed the sculptural quality of the collage where elements like the mat, the tape and the hearts stick out. Holding down the right side of the composition was a kind of baroque "X," contained in a rectangle of black, blue, red and yellow oil crayon, very flat and drawn. It echoed the rectangular sense of the right side of the work in a way that was quite satisfying. My pleasure in the drawn quality of this section rhymed with my delight with that same quality in other works which I was looking at with Norma, Margaret Tedesco, and my husband Nick Robinson. I thought of the co-eternity of people's work together and of art and poetry. In Milton the phrase is "Eternal co-eternal," something like a double positive about the sacred light visible to Milton in spite of his blindness. I didn't think of that then but think now about what goes on and what doesn't, about eternity and mortality, about things and people being together.
One of the ways the work in the show was interesting is the time span it represented. Some of the works, twenty of the twenty-seven in the show, came from the "Tahiti Series" Norma did in 1988 after a trip to the island. The others are from 2014. During the intervening time Norma concentrated somewhat more on writing than on making visual art and, as for all of us between 1988 and 2014, a whole lot happened.
Norma Cole and I met in the early 80s when she first came to New College of California. I had been going to classes there (both of us unregistered) for a while. We often found ourselves in the same place at the same time and I went to parties at her house. It was later that we became close friends, in around 1988, the year of the painting of the "Tahiti Series." It was just after Robert Duncan, with whom Norma was very close, died and a close friendship of mine ended. Norma was spending a lot of time with Robert's widow Jess and I think an important relationship of hers ended as well. Things are always beginning and ending. My husband then, Jerry Estrin, first cultivated Norma with coffees and drinks and talk about Levinas but I quickly stole her away. I remember an occasion when she and Leslie Scalapino visited the Poetry Archives at SF State where I worked and Norma and I engaged in heavy friend flirtation. Soon we were meeting often. For some reason I considered Norma to be one of my best friends right from the first. There was a sense of congruence and we told each other everything.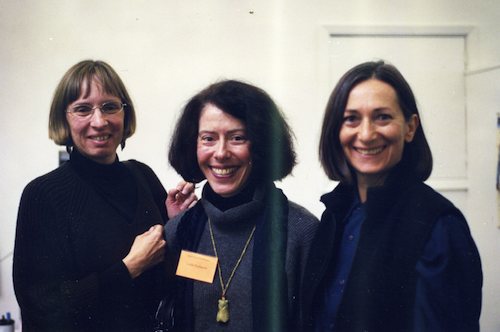 At the time, in 1988, Norma's art studio was in the first floor of her house, the main living space on the second. At some point early on I asked to be shown her visual work so we went down stairs and she brought out some canvases. I especially remember a painting of Samuel Beckett who both Jerry and Norma loved to read but who I didn't read as much. At first, I wasn't sure it was him but I was pretty sure. I didn't ask. I didn't know then why this work made such an impact on me—how it added qualities of love and physicality to my sense of a writer I was into but not as much as I wanted to be. I think I just liked the lines, the painted lines and the colors—all grays and blues in my memory but, according to Norma, "lead white ground on rabbit skin glue, Naples yellow, brown, purple. . .." Perhaps this was not long before she and I were at the Berkeley Art Museum and she began to cry, very quietly, because of the colors in a painting. This was one of the many times that I was aware that painters see things differently. We like this about them, always, but it is especially interesting if they are also writers and can impart some of what they see to you (though not necessarily with words).
But words filled the room on the day of this visit to [ 2nd floor projects ]. We gossiped and exchanged anecdotes. Margaret has amazing ones. I stared into each work and wanted them. I thought about Matisse and that the "Tahiti Series" was airy and calligraphic and yet somehow monumental. I fell in love with a rendering of a big leaf with an element collaged into it in a way that made me think of trompe l'œil which it wasn't because the postcard shaped item collaged into the composition really was a postcard, as opposed to being a drawn thing (but it seemed drawn and was drawn over—making it another double positive?). My attention was fixed in a way redolent of ideas about the surface of the work, scale, and proportion that were also somehow affectionate and a bit whimsical (if ideas can be those things.) The post card led me into a consideration of traveling and tourism, central to a writing project of mine involving volcanoes. I began to wonder if it would work for the cover of this imagined book, knowing it would inform the writing now that I had had this thought, whether or not it ended up on the cover. The leaf was vast and triangular like the stratovolcanoes I love—but it was a leaf. There were many colors in its green and much drawing and I could feel the texture of the oil stick.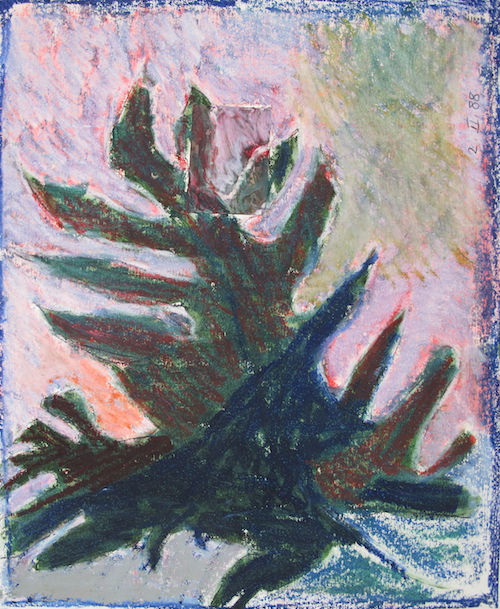 I continued to lust after the pieces in the "Tahiti Series," one with a red railing that made me think of a balcony--Matisse again and Goya. I had a balcony for many years when I lived in San Francisco and now have one again, well—a deck, with also palm trees. I should point out that these were for sale and some were purchased so they definitely can't all be mine.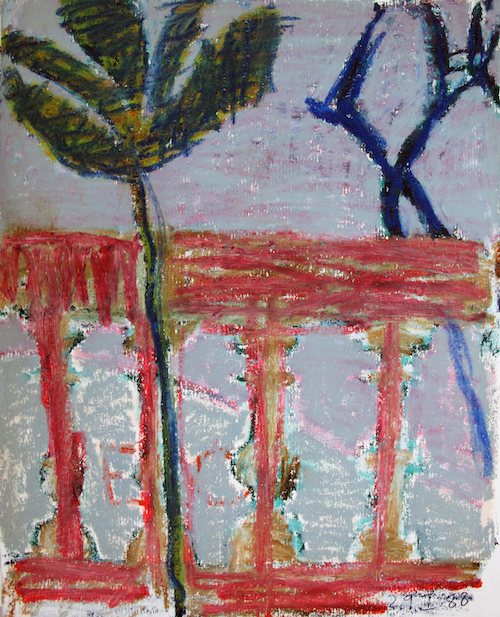 There was a drawing, called "OMG Matisse," where I found further discussion of calligraphy, symmetry, asymmetry, flatness and something like a red hat which was red but wasn't, in fact, a hat.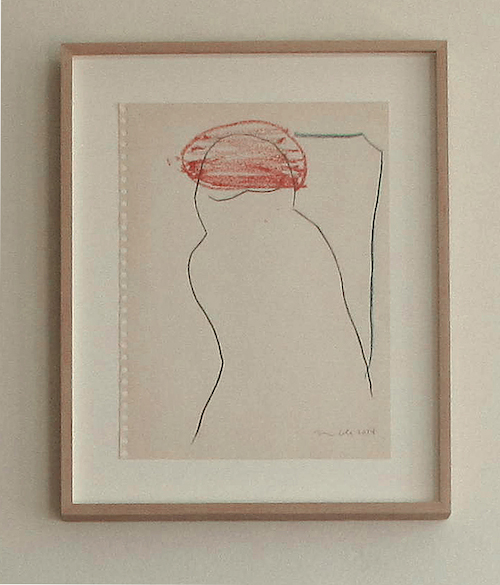 Then there was "Twelfth Night" with Viola. I didn't know the piece was called "Twelfth Night" at the time, though the gallery guide could have told me that. And then Norma confirmed that she thinks of it as "Viola." I like the complexity of reference—which makes me need to reread the play.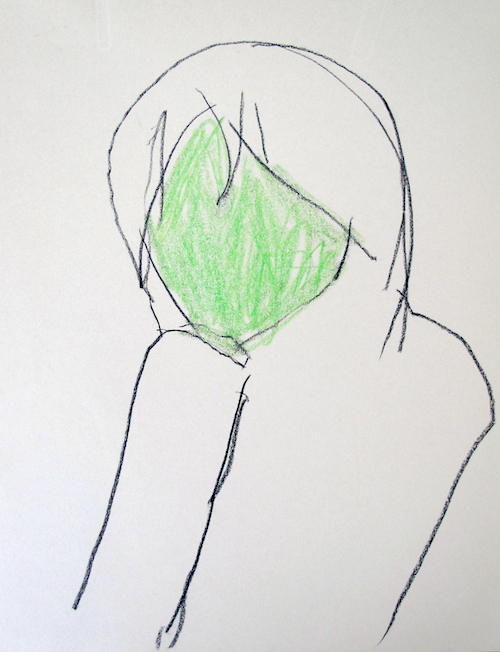 The figure was green and gestural and sure and seemed to be staring out at me, though she had no eyes. In our emails about the show, Norma mentioned just the name and greenness to me but then I found lines mentioning Viola on the same page of Beckett's notebook on which the "co-eternal beam" passage was located (and that Norma had scanned and emailed me.) I ask "why Twelfth Night?" in a later email but Norma just wrote back "yes, Twelfth Night" and let me find it. As we BFFs of Norma Cole know, there are many ways to say something, including not saying it.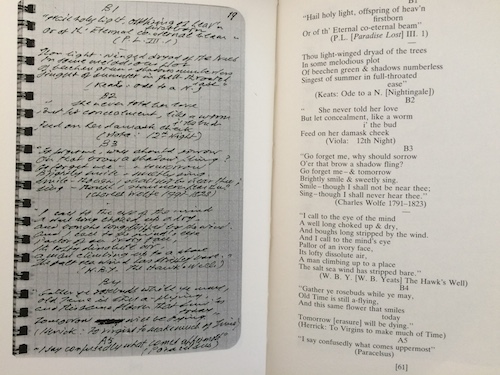 " She never told me her love
But let concealment, like a worm
i' the bud
Feed on her damask cheek"
(Viola: 12th Night)
from Happy Days: The Production Notebook of Samuel Beckett
Norma's quietness draws you out (and in). I have been so drawn more times than I can say and I have witnessed it with others. She is reticent but she knows what she wants and she often knows what you want. You find yourself in a discussion about everything. Later, work appears, whether art or poetry, and you find it is about your life.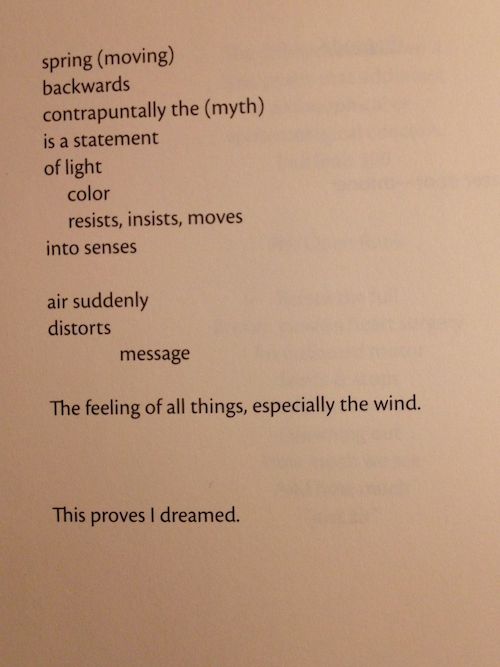 Norma Cole, the last poem from Win These Posters and Other Unrelated Prizes Inside
Born in St. Paul, Minnesota, poet and novelist Laura Moriarty grew up in Cape Cod and northern California. She was educated at Sacramento State University and the University of California at Berkeley. She is the author of numerous collections of poetry, including Rondeaux (1990), A Semblance: Selected and New Poems, 1975–2007...