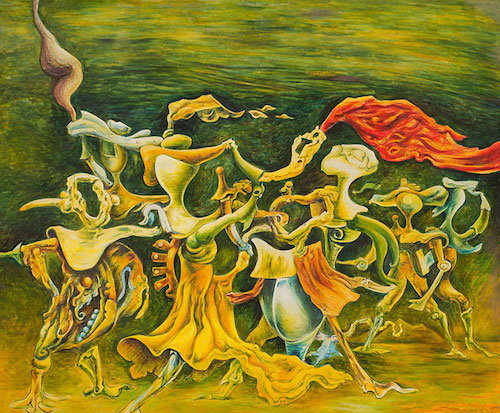 If you like surrealist poetry and painting raise your hand. Since all of our hands are up, let's continue on to the City Lights blog where Garrett Caples writes about the current exhibition at the Weinstein Gallery in San Francisco and tomorrow's poetry reading in celebration of the painter Kurt Seligmann and photographer and poet Nat Herz. Caples writes:
Currently up at the Weinstein Gallery is the first U.S. retrospective of surrealist painter Kurt Seligmann (1900-1962) in over 50 years: First Message from the Spirit World of the Object. On Friday, May 22, 2015, at 7 p.m., in celebration of this event, the gallery will host a surrealist poetry reading featuring contemporary poets Will Alexander and Brian Lucas, along with readings of the work of two poets personally associated with Seligmann: Philip Lamantia, read by co-editor of the Collected Poems of Philip Lamantia (UC Press, 2013), Andrew Joron; and Nat Herz, read by myself. As a teenage poet working for View magazine in New York City during World War II, Lamantia became good friends with Seligmann, bonding over their shared interest in alchemy. Nat Herz, meanwhile, met Seligmann around the same time and collaborated with him on a book of poems and drawings called Impossible Landscapes. Unpublished at the time, Impossible Landscapes only saw the light of day in 1999 as a privately printed art book. This reading will be the first live presentation of these poems; the exhibit also features all 12 of the drawings Seligmann made for the project.
Caples gets more in depth about the life and work of Nat Herz. If you're in SF tomorrow evening make your way over to the Weinstein Gallery (7PM: 444 Clementina Street).