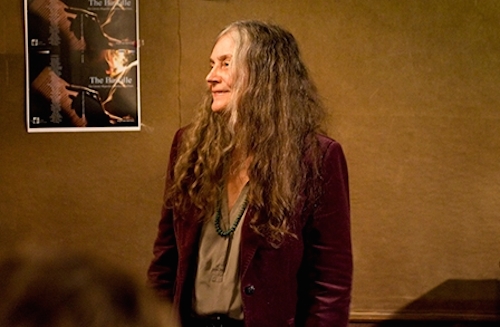 Stop the poetry presses! We at Harriet are thrilled to announce that the 2015 Ruth Lilly Poetry Prize goes to Alice Notley! The prize will be presented on June 8th at the annual Pegasus Awards at the Poetry Foundation.
"In the true American vein, Alice Notley's work has created and nourished a line of deeply democratic work in poetry and prose that is as extensive as it is uncategorizable," says Don Share, editor of Poetry magazine. "Her writing is fresh year after year in a career spanning four decades. Like Whitman, she is simultaneously one of a kind and a poet for each of us: an exemplary, humane, and ultimately essential writer."
Robert Polito, president of the Poetry Foundation, goes on to say, "The range, comprehensiveness, and empathetic imagination of Alice Notley's poems are among the major astonishments of contemporary poetry. Book by surprising book, she reinvents not only herself as a poet, but also what it means for anyone to write a poem at this volatile moment in our history."
Born in Arizona and raised in Needles, California, Alice Notley earned her BA from Barnard College and her MFA from the Iowa Writers' Workshop. Active in the New York poetry scene of the 1960s and 70s, Notley is often identified with the so-called Second Generation New York School poets, though her work resists any period classification. She is the author of over 25 books of poetry, including How Spring Comes (1981), which received the San Francisco Poetry Award; Mysteries of Small Houses (1998), which won the Los Angeles Times Book Prize; Disobedience (2001), which was awarded the Griffin International Poetry Prize; and Grave of Light: New and Selected Poems 1970-2005) (2006), which received the Lenore Marshall Poetry Prize. She edited and wrote the introduction for the reissue of her late husband Ted Berrigan's The Sonnets (2000), and edited, with her sons, the poets Edmund and Anselm Berrigan, The Collected Poems of Ted Berrigan (2005). Her honors and awards include an Arts and Letters Award from the American Academy of Arts and Letters and the Shelley Memorial Award from the Poetry Society of America. She has also been a finalist for the Pulitzer Prize. She has lived in Paris since 1992.
In recognition of Notley's achievements, we are featuring her in a podcast, an interview and audio recordings of her poems. The site also contains a further selection of her poems and an essay, "The Poetics of Disobedience" (1998). Full press release can be read here.