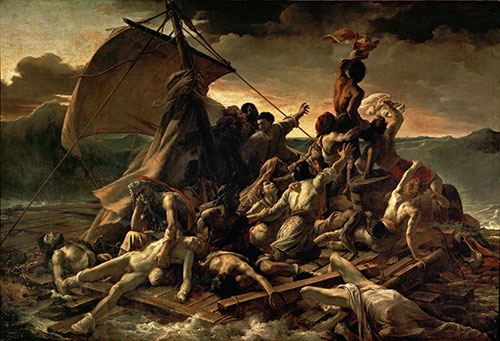 [Note: Each month we feature a guest post from a contributor to Poetry's current issue. Karen Solie's "Bitumen" appears in the May 2015 issue. Previous posts in this series can be found on the Editors' Blog.]
In reference to a recent speech by French President François Hollande, John Berger writes: "Historically speaking, he lives hand to mouth. He has abandoned hope. . . . Hope engenders political vocabularies. Hopelessness leads to wordlessness." It's an observation equally appropriate to Canadian finance minister Joe Oliver's introduction of the new Conservative Party budget, which does not mention climate change. In an April 21 interview for CBC Television's The National, Oliver refused even to use the phrase, responded to a subtly but obviously exasperated Peter Mansbridge by stating that trains and trucks transporting crude oil generate more emissions than the projects extracting it, and the government will not restrict industry for the sake of environmental measures of little consequence. This is an election budget. We go to the polls in October. The numbing reiterations, purposeful vagueness, the frustrating absence of meaning in this government's rhetoric, feels profoundly cynical, and hopeless at its core. The budget's title is "Strong Leadership." Prior to appointment to his current portfolio, Oliver was Minister of Natural Resources.
The Athabasca bitumen deposit in northern Alberta is the world's third largest, after Saudi Arabia's and Venezuela's. Athabasca Chipewyan and Mikisew Cree First Nations people once caulked canoes with bitumen naturally accumulated along the waterways. Now, in the watershed, fish regularly exhibit tumours seeded by toxic runoff and wastewater. Birds landing on tailings ponds die instantly. The incidence of rare cancers in remote communities such as Fort Chipewyan has risen 30 percent, though the studies have been criticized for insufficient data. Locals say the rate is much higher. Traditional diets have changed for fear of the heavy metals and polycyclic aromatic hydrocarbons research finds in the bodies of ducks, muskrat, and moose, the arsenic levels actively dangerous to young children. Athabasca Chipewyan Chief Allan Adam has said the community rejects federal money because of the many strings attached, earns $270 million annually from service contracts negotiated with tar-sands producers. He says First Nations leaders will not give up on securing an equal seat at discussions related to project expansion, the environment, and fair treatment of its inhabitants, will not settle for periodic inclusion for the sake of "optics."
Rebecca Solnit writes that "Hope and history are sisters: one looks forward and one looks back, and they make the world spacious enough to move through freely. Obliviousness to the past and to the mutability of all things imprisons you in a shrunken present. . . .Hopelessness for people in extreme situations means resignation to one's own deprivation or destruction. Hope can be a survival strategy."
I grew up in rural southwest Saskatchewan, traditional lands of the Plains Cree sold by the government to immigrants like my Norwegian grandparents. I write this from the homestead, where my parents, my brother and his family, still farm. Fracking for sweet gas in the Western Sedimentary Basin has been going on for 30 years. We haven't been able to drink water from farm wells for 20. Decades of pesticide and herbicide application hasn't helped. Though the government sold mineral rights to the companies, farmers can negotiate surface leases for land disturbed by the drilling and maintenance of wells. The money allows some families to stay on the land. Plus, if you refuse to negotiate, refuse access, companies will find a way to the gas they own, and you will not get anything. Canadian Natural Resources also operates in the North Sea and offshore West Africa. Nothing about this situation is figurative.
Some critics of Edward Burtynsky's photographs argue their composition and scale reduces viewers to an anxious, helpless awe overwhelming any ethical momentum. Evidence seems to demonstrate, however, that generally speaking viewers' ethical momentum is fairly easily overwhelmed. As Solnit says, "For comfortably situated people, hopelessness means cynicism and letting oneself off the hook. If everything is doomed, then nothing is required (and vice versa)." Burtynsky has been reluctant to supply a thesis statement. J.M.W. Turner, whose influence many critics recognize in the photographs, felt it important to distinguish between the greater truth encountered in the imagination and "that which is solely addressed to the eye." Imagination is key to accommodating the paradox stricken critics identified in Gericault's Raft of the Medusa. "How could a hideous subject be translated into a powerful painting, how could the painter reconcile art and reality?" As the historian Jules Michelet famously wrote, "Our whole society is aboard the raft of the Medusa." Art never has shied from representing disasters natural and man-made. But more than ever we can't tell them apart.
Passengers on the 5½-hour overnight flight from Calgary, Alberta, to St. John's, Newfoundland, are largely tar-sands workers on their way home. A typical rotation for employees of the many companies with stakes in northern Alberta is three weeks on, one off. Of workers with permanent residences elsewhere, the so-called "shadow population" who live in the camps, Newfoundlanders are second only to Albertans. Before those flights, airport bars are lively, and my first time I expected mayhem on the plane. But on boarding around 11:30 p.m., the big men—the workers are almost exclusively men—find their small seats and fall asleep almost immediately. I had never seen people sleep like that. During the decades-long decline and eventual collapse of the inshore fishery, many towns in Newfoundland saw large numbers of their men off to the Alberta oilfields, and some to offshore Hibernia projects. It's not difficult to find stories documenting the danger and hardships of this work. Most, given a choice, would not do it. Electrician Mike Thomas was fired by Suncor Energy after documenting in a 2010 blog the "inhuman" conditions at its camps. Suncor says Thomas was fired for violating a ban on photographic and video recordings on its worksites that protects "proprietary or commercial" information.
In spite of sustained environmental and political opposition, Prime Minister Stephen Harper seems to consider completion of the Keystone XL pipeline part of his legacy. The proposed pipeline runs from the tar sands through the Midwest (there are several branches) to the Gulf Coast. The Conservatives sell it as the environmentally sound alternative to rail transport, pointing to the catastrophic consequences of derailments. In July 2013, 72 unattended parked tanker cars full of crude oil broke loose, derailed and exploded in the centre of Lac Mégantic in Quebec's Eastern Townships, killing 47 people and dumping hundreds of thousands of litres into the Chaudière River. Enbridge and TransCanada Corp. are competing for pipeline contracts. They also appear to be vying for the title of Most Dangerous and Mismanaged Pipeline, as both own a history of oversight, spills, explosions, and attempted cover-ups far too lengthy to get into here. In each rail accident in a system radically undermined by cost-cutting layoffs, pipeline rhetoric finds the opportunity to crescendo. I'm not a conspiracy theorist, but I can see it from here. At the very least, the pipeline vs. railway debate suffers from a fatal lack of imagination.
In 2011, an apt comment on the character of North Atlantic skies sent me on a reading cycle that began and ended with Turner, that student of the Industrial Revolution. Bitumen, the oldest known engineering material and site of present urgency, acquired a symbolic weight of complication, fearsome gravity of the common denominator, that instigated in me something like the awe and terror of the sublime. Bitumen makes possible lifestyles that threaten to destroy themselves, a threat provoking a hysterical denial response that somehow insists on increased dependence. The raw material of the threat is that which allows representation of the threat. We attain the power to create, then feel powerless in the face of our creations. It's not a new situation, though the field has changed. What remains constant in the sublime encounter is wordlessness, the imagination overwhelmed. There is great value in attending to this experience. It's a wellspring of the spirit, a challenge to the mind; but only if attention is active. Then a common mystery flickers in it, a passionate empathy. The natural sublime will no longer just sit there allowing us our passive awe. The challenge requires imaginative responses to history, to complication and scale, that reject the paralysis of inertia and despair, and that do not end with representing them.
Canadian poet Karen Solie was born in Moose Jaw, Saskatchewan. She was educated at the University of Lethbridge, where she earned a BA, and at the University of Victoria, where she pursued graduate study. In her poems, Solie often tracks a journey, or several journeys at once, following the mind's...