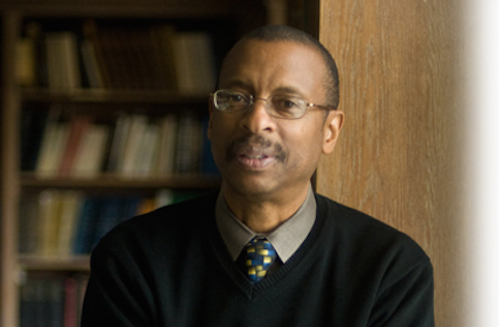 At the Washington Post Courtland Milloy is in support of E. Ethelbert Miller, who was unexpectedly let-go from his job as director of Howard University's African American Resource Center recently. Miller directed the center for forty years, which was created in response to students's requests in the 1960s for "curriculum better suited for understanding the social and political upheavals of the time." Milloy writes: "At first, the center was little more than a reading room and a resource for making video tapes. But it grew into a storehouse of educational resources under Miller, who took over in 1974." More:
E. Ethelbert Miller, a noted poet, has received some extraordinary words of praise since leaving his job, unwillingly he says, as director of Howard University's African American Resource Center.

"Ethelbert is the heart and soul of Howard University," said Douglas Brinkley, a prominent historian and author. "He has the institutional memory of Howard. He is deeply inspirational and a bibliophile who knows the archives better than anyone."

Elizabeth Alexander, a professor of poetry at Yale University and author of a widely praised new memoir, "Light of the World," said in an e-mail: "To me, it's a sad day for Howard to lose Ethelbert Miller. Generations of writers — myself included — have made the trek to see him as budding young creative people committed to the art of the African diaspora. His generosity is legion."

Testimonies like those are usually reserved for people being laid to rest, not for those who apparently have been laid off. I say "apparently," because Miller says that no one from the university ever told him that he was being let go. He also says that he was locked out of his university computer last month and that a larger-than-usual paycheck from the university was deposited into his bank account.

Howard has not commented on Miller's departure.

[...]

The decision also raised questions for Miller, such as what it means to be a historically black university if it operates with a corporate mind-set.

"We have to ask ourselves, as black people, what have we learned from using the corporate model?" asked Miller, who is 64. "How can you be a black person on a black school's board of trustees and phase out custodians who take two buses to work and probably won't be able to find another job? How can you do that and claim to be concerned about income inequality?" [...]
Continue at Washington Post. Then head to Split This Rock to read Reginald Dwayne Betts's letter to Howard University in response to Miller's termination.