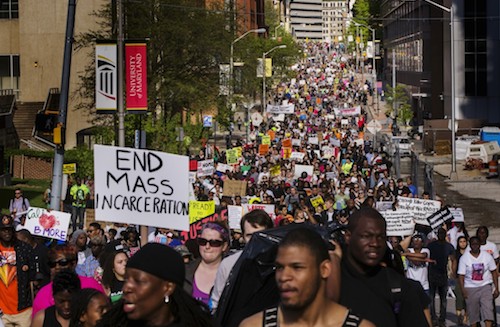 At Real Pants: poetry by Baltimore students from a recent Black Words Matter Write-In. This write-in took place just days after Mr. Freddie Gray died in Baltimore police custody: on May 3rd. Writers in Baltimore Schools organize the write-ins: all of the poems by students featured at Real Pants are excellent. We'll post eleventh grader, Jaida Griffin's poem here. Read more of her peers's writing at Real Pants.
I feel most colored when
by Jaida Griffin (grade 11)

I feel most colored when the pen bursts. When spurts of pigment mark my palms I see that brown and blue is not a combination so common as black and blue.

Black by culture, brown in color, I find there are blue veins in my wrists.

I will be beaten black and blue later on tonight, by a man in black and blue.

Let's not talk about white as if it's not the issue because half of the officers were black, right? I feel colored.

I feel most colored as I sit here eating this strawberry, wondering if it's the same red as the blood that will likely be shed tonight.

Tonight I feel most colored.

Every night, through, I feel colored,
As the beautiful blackness of the sky gets no attention,
Only the moon and stars.