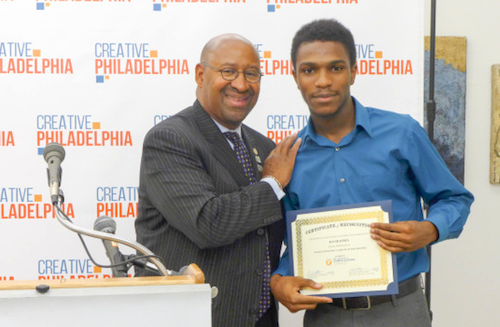 Congratulations to David Jones: Philadelphia's Youth Poet Laureate! As Youth Poet Laureate, Jones will be encouraged to create initiatives that promote poetry to Philadelphia youth. Philadelphia Poet Laureate Frank Sherlock will assist David Jones with his newest task. More:
Seventeen-year-old David Jones, who'll be a senior this fall at West Philadelphia High, was not surprised when he learned he had been named Philadelphia's next youth poet laureate.

"It was super cool," he said after receiving the honor during a City Hall ceremony in front of his family, friends, and city officials including Mayor Nutter. "Honestly, I kind of expected it."

Jones, who has been writing poetry for years, was calm and confident as he recited one of his poems, Birds, an homage to Maya Angelou's famous work.

"Pretty birds have the worst songs," he said slowly, allowing each word to make an impact. His audience was rapt, paying attention to every word.

And when he finished with, "So if you've never been in chains, you won't understand why the caged bird sings," they clapped their hands with vigor.

Jones believes that poetry is an art form that goes far beyond the written word. "Slam poetry," Jones' specialty, involves delivering poems in dramatic recitations, in which performance is valued as deeply as content.

"There's a power in it [slam poetry], because people have different messages," said the teenager. "So it's like saying what you want, teaching people that their voice matters." [...]
Continue at The Inquirer.