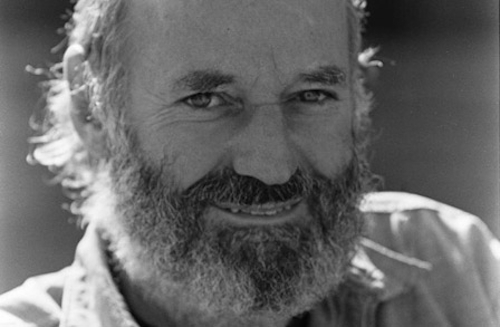 At NPR: Lawrence Ferlinghetti, at age 96, "isn't done yet." "Today, he's still co-owner of City Lights, one of the most celebrated independent book stores in America. These are quieter days for the internationally acclaimed poet and painter. His eyes are going, but his mind and humor are sharp. And while he may have slowed down some, he's still publishing three books this year." More:
Ferlinghetti is generous with his time, and he greets this reporter's visit with a surprise. "I see you've got those reporter's notebooks," he says. "I wrote a whole novel here in these reporter's notebooks — 78 of them there." (We'll get to back to his unfinished novel a bit later.)

From his desk window, Ferlinghetti surveys his North Beach neighborhood, which he says is changing just like the rest of San Francisco. Take for example his favorite neighborhood coffee shop, where he says no one talks to anyone else anymore because they're all staring at a screen. "Yesterday morning I was walking down there and a guy passed me. I said, 'Good morning;' he didn't even look at me. He just went right on past," he recalls with a laugh.
Later, reporter Richard Gonzalez tells us the future:
What the customers won't see is Ferlinghetti himself. At 96, he rarely visits the bookstore anymore, but he still lunches regularly with friends and keeps a brisk schedule with visitors. And 2015 is a busy year: He's publishing a 60th anniversary edition of the City Lights Pocket Poets Anthology, a collection of poetry packaged to fit into anyone's back pocket or purse; a book of selected correspondence between himself and Allen Ginsberg; and Writing Across the Landscape, a compilation of his travel journals dating back to 1944.
Can't wait for those! Read more about this legendary figure at NPR.