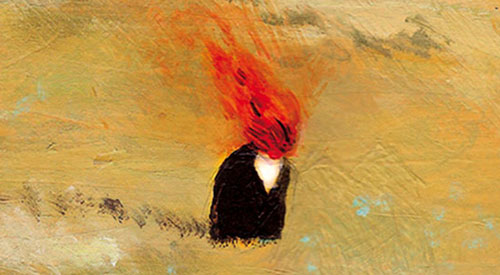 The Reading List is a feature of Poetry magazine's Editors' Blog. This month contributors to the June 2015 issue share some books that held their interest.
Emily Berry
I'm mainly reading books about death and grief at the moment. I just finished The Young in One Another's Arms by Jane Rule, which a friend recommended. I didn't know that one was going to be about death but it turned out it kind of was. Though it's also a gentle, beautiful story about collective living, age, youth, and, I guess, love. Now I'm reading The Autobiography of My Mother by Jamaica Kincaid, and Love's Work by the philosopher Gillian Rose, a memoir written while she was dying. Then I'm reading Sunny Wednesday by Noelle Kocot (another recommendation, by someone aware of my current fixation), these electric, mysterious elegies that you wouldn't even know were elegies necessarily, and Robert Hass's collected poems The Apple Trees at Olema which has with the elegy to his brother, "August Notebook: A Death."  I'm trying to write elegies myself at the moment, thus this strict diet.
For a break from death I just read I'm Very into You, the emails between Kathy Acker and McKenzie Wark, because if you had an opportunity to read someone else's seduction emails, why wouldn't you? Kathy Acker seemed to be listening to Portishead a lot while emailing which made me nostalgic for the '90s—someone was always playing Portishead in the '90s. I'm also reading Mary Ruefle's amazing Madness, Rack, and Honey. I just read "Poetry and the Moon," in which she remarks "The moon has no light of its own, our apprehension of it is but a reflection of the sun."  Of course I knew the moon had no light but somehow this was still a massive shock. I was like, what are you talking about, no light! It's the moon!
Victoria Chang
The book I can't stop thinking about is Richard Siken's War of the Foxes.  One of my favorite set of lines (too many to put here):
I cut off my head and threw it in the sky. It turned
into birds. I called it thinking.
This book is in every way marvelous and intelligent and I love how the book uses art as an entryway into life, philosophy, and being.  I am in awe of the surprising twists and turns of Siken's brain.  It's brilliant and so imaginative.
Two debut authors from last year that impressed me are Chloe Honum's The Tulip-Flame and Brandon Som's The Tribute Horse.  Both beautiful and urgent in different ways.  I look forward to reading their future books.  And I just finished John Gallaher's In A Landscape, a wonderful book, filled with surprising associative leaps.
Chen Chen
I've just finished reading The Racial Imaginary, a collection of short essays as well as visual art pieces, co-edited by Claudia Rankine, Beth Loffreda, and Max King Cap. What an amazing resource this is—for pushing writers beyond the usual "isn't it so brave of us to talk about race at all" non-dialogue. I'm excited to use this volume in conversation with students this fall. To question our beloved moves and positionings, as Ira Sadoff does: "I'm not afraid of appearing ugly in a poem, unsettling my audience…but I never want to romanticize that morally fallible part of myself to be 'provocative': there's narcissistic display in the stance of 'look at me, how ugly I can be.'" To dig into how vexed and personal "canon" gets, as Jennifer Chang does: "Joan Richardson reports that upon seeing a photograph of Gwendolyn Brooks, Wallace Stevens asked, 'Who's the coon?' I hate this fact and I hate the empty Orientalism that makes some of his early work so sloppy and false; and yet, Stevens has written poems that I turn to again and again for comfort and meaning…how am I complicit in this—what I feel?"
In poetry, I've been rereading. Two books I'll describe too briefly: Bhanu Kapil's The Vertical Interrogation of Strangers and Sarah Gambito's Delivered. Both books wrestle with the figure of the immigrant (worker) (lover) (artist), and push back against performing narratives of easily digestible immigrant progress or pain. Kapil declares, "I don't want to write stories anymore. I am not a stripper," and then attempts a story in the voice of a stripper. Gambito asks, "Don't you hate it when someone apologizes all the time?/It's like they are not even sorry." What does fully, unsettlingly alive dialogue sound like? we need to ask ourselves, each other.
Stephen Dunn
Recently, I had some friends over who asked me about poets that I felt were unfortunately neglected. It's a question that inspires laughter at first because the question involved poetry, which meant the list could be very long indeed. Besides, all of us feel neglected, even if our work occasionally gets talked about. Fiction writers, too. I remember Saul Bellow, some years after he won the Nobel, complaining that he wasn't being discussed as much anymore.
But last night I found myself pulling from my shelf two first books written by men in their sixties (full disclosure—I had chosen each book as a winner of a competition), and reading sections of each to my friends. One (The Welcome by David Joel Friedman) was distinguished by its strangeness and remarkable syntax. The other (The Infirmary by Edward Micus) were the best Vietnam war poems I'd ever read.  I'd never heard of either man. In fact, I didn't know their names until after the books were chosen.
In the four or five years since their publication, these books have not received any attention. Here's the title poem of The Welcome, a book of prose poems, and, as you'll see, not very strange at all, but short enough to cite here:
Do you wish to immigrate to my heart? Where are
your papers?  What are your purposes?
Are you lost?  Are you broken? Come the chamber of
my heart for safety. Remember the old country. I was not
there. I was waiting for you here.
Do you wish to be naturalized in my arms? Let me in-
struct you in the new tongue. Tread softly; Death too first
makes inquiry; then shows the way.
Come, pledge allegiance to my tattered proud flag. Here,
and here only, the streets are paved with gold.
The Welcome was a manuscript I resisted as long as I could, but none of the other contenders had its verve or originality. I recognized their poems as poems I could imagine someone writing. Friedman's book was sui generis, the poems coming from a rich nowhere.
I was reading Edward Micus's book in 2007, long after the Vietnam debacle. At first I thought—because it was a first book—that its author was a veteran of the Iraq or Afghanistan wars. The quality of the poems attest to the value of waiting a while, in his case a long while, before writing about the horrific. A short example:
AMBUSH MOON
The moon has a mood,
the moon has its bad face on.
We slip down

the draw to the valley floor,
circle the village.
In the hooches

there is a place for
a fire and small god to live.
Children

are sleeping their sleep
on straw mats and they are
beautiful in their yellows and blacks.

They are beautiful,
they are sleeping,
let us wake them.

We have come
12,000 miles
to find them.

They are beautiful,
they are sleeping oh
the moon

has a mood
the moon has something
to do.
After our guests left, I reread both books. On my night table are three other books I'd recommend. Alicia Ostriker's The Book of Seventy, one of the best books of poetry on aging that I know. And two books of criticism each brilliant in different ways: David Wojahn's From The Valley of Making: Essays on the Craft of Poetry, and Jane Hirshfield's Ten Windows: How Great Poems Transform the World.
William Fuller
Valerie Rumbold's edition of Pope's The Dunciad in Four Books, first published in 1999, is like a small encyclopedia devoted to the final version of The Dunciad, which comprises a series of mock-commentaries, "learned" notes, prefaces, and appendices, as well as the actual poem itself. Rumbold's annotations leave no joke unexplained or dunce unidentified, and in the process she uncovers layer after layer of allusive detail and adumbrated context, coaxing out of this profoundly compressed text all its weird constituents.
To help derive pleasure from books like the foregoing, Miles Champion's nimble instruction manual, How to Laugh, now finally available from Adventures in Poetry, should be consulted.
Rebecca Gayle Howell
I'm returning to awe. I want fewer thoughts and more goosebumps. So I've been reading aloud to myself, the way I did when I was a girl, my breath falling and rising to another person's heartbeat, music in my mouth and in my ear, our music of ideas. Narrative or lyric, civic or confessional, received or free, political or apolitical: I don't care. Sentences measure sense; whether broken into lines or not, they also measure sensitivity. I want truth and beauty; I want magic. And syntax is the spell.
Here are bits from recent weeks:
James Agee. Knoxville: Summer, 1915.
Joy Williams. 99 Stories of God.
Ross Gay. Catalog of Unabashed Gratitude.
Frank Stanford. The Singing Knives.
Tom Bullock. The Ideal Bartender.
Gregory Pardlo. Digest.
Barry Hannah. Bats Out of Hell.
Gwendolyn Brooks. A Street In Bronzeville.
Ms. Brooks. I do not leave her. We are things of dry hours and the involuntary plan, / Grayed in, and gray. I want to drop to my knees when I read those words in that order. I want to do right.
Tsipi Keller
I often reread/re-browse Blaise Cendrars's Selected Writings (New Directions, 1962). I love his directness and "simple" ambition. In an interview he says: "A writer should never install himself before a panorama, however grandiose it may be. […] Writing is a view of the spirit."
Here's an excerpt from his Prose of the Transsiberian and of Little Jeanne of France (1913) translated by Scott Bates:
She is only a child, blonde, laughing…and sad,
She does not smile and she never cries;
But deep in her eyes, when she lets you drink there,
Trembles a gentle silver lily, the poet's flower.
. . . . . . . . . . . . . . . . . . . .
For she is my love, and the other women
Have only dresses of gold on tall bodies of flame,
My poor friend is so lonely,
She is quite naked, has no body – she is too poor.

She is only a slender white flower,
The poet's flower, a poor silver lily,
So cold, so alone, and already so wilted
That tears rise to my eyes if I think of her heart.
and from Nineteen Elastic Poems (1919) translated by John Dos Passos:
Christ
Life
That's what I've ransacked

My paintings hurt me
I am too intense
Everything is bright orange.

I've spent a sad day thinking of my friends
And reading the newspaper
I'm also reading The Diary of "Helena Morley" translated by Elizabeth Bishop (1957). At the urging of her father, the 12-year-old Helena began to write a diary in 1893 and kept it till 1895. Here's Helena in the preface to the Portuguese edition (1942):
And now a word to my granddaughters: you who were born in comfortable circumstances and who feel sorry when you read these stories of my childhood, you do no need to pity poor little girls just because they are poor. We were so happy! Happiness does not consist in worldly goods but in a peaceful home, in family affections, in a simple life without ambition—things that fortune cannot bring and often takes away.
Lastly, the wonderful Jane Gardam. A couple of months ago I read her exquisite novel God on the Rocks (1978), and am now reading her very different and equally exquisite Old Filth (2004). She is the kind of author who, as soon as you open a novel by her and begin reading, you know you will read through to the end. The opening paragraph, describing Old Filth himself, begins: "He was spectacularly clean. […] He had the elegance of the 1920s, for his garments, whatever they looked like off, always became him."
Michael Klein
As usual, I am reading a number of books at the same time—some poetry, but mostly fiction and non-fiction. The book that I've been doing the most living inside of, though, is Hanya Yanagihara's astonishing novel, A Little Life. It's huge—700 pages—and I've taking it in episodes to make it an even longer reading experience because I don't want it to end. Its story follows the decades-long relationship of four men with different ambitions in New York and Yanagihara's exquisite prose draws most resolutely the way one man's horrific and amazingly detailed sexual abusive past catapults him into his own painstaking self-destruction and a fragmented idea of friendship.
I'm also reading Richard Siken's new book of poems, War of the Foxes, which I like even more than his first book, Crush. I love poems that question their own sense of declaration and this new Siken book has that kind of aesthetic and a restless elegance that I really admire. I'm also loving What About This: Collected Poems of Frank Stanford, which has to be the biggest book Copper Canyon has ever published and one of the most beautifully produced. And The Collected Poems of Lucille Clifton, the biggest book BOA Editions has probably produced. Clifton's work is essential to me and Stanford's visionary work is completely startling and peerless.
I'm also reading Vivian Gornick's concise and probably most revealing new book, The Odd Woman and the City and Bruce Eric Kaplan's beautiful and funny memoir, I Was a Child.
Bridget Lowe
I am currently reading Martha Nussbaum's Hiding from Humanity: Disgust, Shame, and the Law. It came out over ten years ago, but its central inquiry into the ways disgust and shame govern American ideas of criminality and punishment seems to have only grown in relevance since its publication.
I am also reading Flaubert's Three Tales from Hesperus Press. Howard Curtis's introduction to these stories opens with an excerpt from a letter Flaubert wrote to George Sand in 1875:
I feel old, worn out, disgusted with everything. And other people bore me as much as I bore myself […] I lose myself in dreams of my childhood, like an old man… I expect nothing more of life but a succession of sheets of paper to be scribbled over with ink. It seems to me that I am passing through an endless solitude, with no idea where I am going.
This book reads as Flaubert's personally devised antidote to the grief he was consumed by during this time. A Simple Heart opens the collection and is perfect—sentimental, tragic, and absurd. It's an orgy of pointless suffering that finds a surprising and heartbreaking relief.
Also, I love the way Flaubert writes about disgust as something that originates in the mundane rather than the exotic (more so in Madame Bovary than in these stories), and while Nussbaum and Flaubert aren't exactly in direct conversation, I'm enjoying them together.
Stanley Plumly
Two new books of poetry stand out for me from this past year: Tongue Lyre by Tyler Mills and Scavenger Loop by David Baker. Tongue Lyre is notable for the pressure it places on the imagination: it is remarkably inventive yet grounded, deeply, in its emotional life. It is a first book filled with brilliance and just the right amount of extravagance. Scavenger Loop is Baker's tenth collection and his best: I can't think of a recent book of poetry so capable of moving so easily and effectively between the mind and heart of the experience. In his sense of the world, the natural world especially, Baker reminds one of an American nineteenth century pastoralist, which makes him a contemporary Transcendentalist, able to turn the small moment something worthy of memory.
Erika L. Sánchez
Being both a feminist shrew and an avid supporter of VIDA, I have been exclusively reading books by women lately. The Verging Cities by Natalie Scenters-Zapico left me muttering and shaking my head in disbelief. I was sincerely blown away by this book. As a daughter of Mexican immigrants, I'm obsessed with the border, and Natalie captures the violence of this abstract and physical space in such beautiful, precise, and surreal language. The exploitation of the female body—which the speaker continually interrogates—is also at the core of this book: "He wonders when she ate so many / stars, how they stay hidden in the sky of her. Her blood drowns the city quiet."
Cathy Linh Che's Split is also one of my favorites these days. I deeply respect those who are unafraid to take on difficult subject matter. There are too many books that don't have a true tension and urgency. Split was emotionally trying at times because of the painful content, but I truly appreciated the way it challenged me with its honest and searing language. It's another book in which the female body is central—dissected, shattered, and slowly pieced back together. She writes: "My body a punctured casing— / men like galaxies / and I like shredded lace—"
The much-anticipated Blue Yodel by Ansel Elkins was such a pleasure to read. Brimming with ghosts, this book takes you on an exploration of a verdant and misty Southern landscape. I was particularly moved by the poem "Reverse: A Lynching," in which the speaker reimagines the murder of a black man, and attempts but fails—of course—to bring him back to life through language: "Untangle the spitting men from the mob / Unsay the word nigger." I find this poem particularly poignant as black men in this country continue to be systematically killed.
Danniel Schoonebeek
I've been in the woods most of this past month, spending a lot of time with Juan Rolfo's The Plain in Flames, translated by Ilan Stavans, it's an unbelievable book. The Collected Poems of Chika Sagawa, translated by Sawako Nakayasu, is the book I read before bed. Frank Bidart's "Fourth Hour of the Night" is maybe my favorite in that series so far. I'm reading Edouard Levé's Autoportrait for a third time, translated by Lorin Stein, it drives me crazy, same goes for this Lara Mimosa Montes essay called "Clouzot's Wound," same goes for The Plague, translated by Stuart Gilbert, which was poignant to read alongside newspapers full of human suffering and police violence. I'm finally reading Vicente Huidobro's Altazor, translated by Eliot Weinberger, I'm finally reading the SCUM Manifesto, Hannah Sanghee Park's The Same-Different, I'm reading The Importance of Being Iceland, which is one of those books I never stop reading. I'm listening to a lot of War on Drugs and Roxy Music. Morgan Parker's "All They Want is My Money My Pussy My Blood" is a colossal poem. Mayakovsky: A Biography, written by Bengt Jangfeldt and translated from the Swedish by Harry D. Watson, is the first exhaustive study of Volodya and you can feel the crush of that history when you read it. I'm perpetually finishing and re-starting Renee Gladman's Ravicka trilogy, which changes the way I think every time. I loved Sara Nicholson's "Now That's What I Call Music." Joseph Fasano's Vincent, which comes out this month, is incredible and terrifying. I just heard Danez Smith read some of his new poems in the woods, they're great. I'm reading manuscripts by Allyson Paty and Nina Puro, both of which are going to be great first books some day soon.
Michael Seth Stewart
I'm currently suspended in a beautiful air pocket between teaching spring classes and a summer session on poetry, so I've had time to read some incredible things. First, I'm captivated by a project that poets Marissa Crawford and Becca Klaver launched last Halloween, called Weird Sister. It's compulsively readable – a recent favorite of mine is Caolan Madden's "Bad or Boring: Doing Without Ethics in Poetry." Also, I've been devouring everything that the Boston Review has been putting out, especially a recent essay by Jess Row on cynic privilege, white guilt, and Harold & Maude, called "American Cynicism: And Its Cure." The cure may include righteous rage and crying. (Speaking of righteous crying, I'm knocked out by Marissa Crawford's account of the recent Ana Medieta cry-in.). Elsewhere on the Boston Review, poetry editor Stefania Heim and scholar Dorothy Wang have been publishing an astonishing series of essays, "Race and the Poetic Avant-Garde," building off recent interventions by Cathy Park Hong and Simone White, among many others. I'm awed by Erica Hunt's "Response to Race and the Poetic Avant-Garde," which challenges and inspires in equal measure: "Hurray for troubled waters, shifting pronouns, and blurred lines between lines, between genres and disciplines. In the muck, green shoots."
In preparation for my summer class, I'm going back again and again to Diane di Prima – well, for me she's the sun, moon, and stars of poetry. One of the most important things I've ever read on poetry is her 1975 lecture "Light/ And Keats," which you can find in the Naropa collection Talking Poetics. She takes as her starting point the proposition that "the actual stuff that poetry is made out of is light," and that in some poems "light actually comes through the page." She weaves together the hermetic traditions, the Keats letters (an hermetic tradition of its own), and the Zen "way-seeking mind" of Shunryu Suzuki, fusing them into a truly Orphic poetics. Her most recent book is her first new one in several years, The Poetry Deal, and it's astounding, kicking off with her 2009 "Inaugural Address" as Poet Laureate for the city of San Francisco. But the Diane di Prima that everyone needs in these trying times, I think, is her incendiary and loving Revolutionary Letters. It begins with a declaration that I think says it all:
I have just realized that the stakes are myself
I have no other
ransom money, nothing to break or barter but my life.
Nico Vassilakis
Visual poetry has enjoyed an uptick of sorts in the last decade thanks to the ease of image sharing. The global vispo community is expanding and works are popping up everywhere. As I am in the unusual position of being a visual poetry contributor, I thought it might be a good opportunity to disseminate some links to an otherwise unfamiliar audience. So, here are some visual poets you can explore:
http://www.thelastvispo.com/2012/08/30/visual-poetry-blogswebsites/
http://coldfrontmag.com/category/vispo/
http://www.ubu.com/vp/index.html
http://www.thing.net/~grist/l&d/lighthom.htm
Timothy Yu
I just finished teaching a course on Asian American comics and graphic novels, and perhaps the book I most enjoyed revisiting was Lynda Barry's One! Hundred! Demons! It's a sort of childhood memoir, but each section is a "demon" Barry grapples with—scents, "girlness," loss—unfolding in comic-strip style but with an introspective, retrospective narrative that threatens to overwhelm the panel. Best of all, Barry frames the book with a description of her method and an invitation to explore your own demons, a gesture of disarming generosity. (My students loved the book; they found it "relatable.")
When Paul Thomas Anderson's film version of Thomas Pynchon's Inherent Vice came out a few months back, I realized I had the book on my shelf but hadn't read it yet. I managed to rush through the first half before seeing the film, saw the film and loved it, then went home and finished the book and then reread it from the beginning. The film captured the book's moodiness, but Pynchon's prose is somehow both more madcap and more lyrical.
For some reason the onset of summer made me want to go read Hart Crane. I was going to say reread, but I always feel like I'm reading him again for the first time; the unexpected juxtapositions of his language make you feel like no one could ever possibly have put that set of words together before. In typical fashion, though, I can't be reading just one (or two) things at once, so I've started in on another novel, Viet Thanh Nguyen's The Sympathizer; its narrator, a South Vietnamese officer who is secretly an agent for the North, is compelling and unreliable, pitch-perfect in tone.