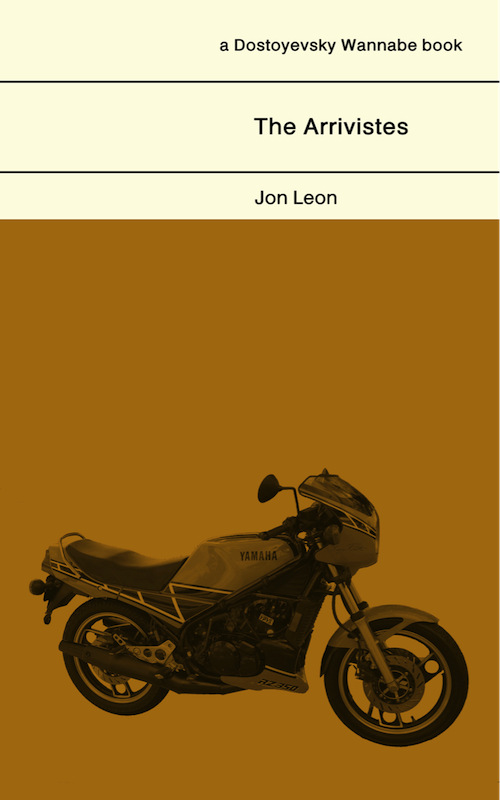 Prologue

"Tradecraft" is the first in a series of essays that address disintermediation and convergence as it relates to design, aesthetic philosophy, authorship, poetry, and the packaging of poetry. Here, the boundaries of my subjects will not be limited by common definition. It is often the case that such disciplines, notwithstanding the now old-fashioned idea of inter-disciplinarity, become hostages in a war for category dominance, a peculiar strategy known for its impotence when faced with a true category killer who, as Sun Tzu reminds us, desires only to forage on the enemy.
***
When I started Jon Leon in 2002 I never doubted that it would become the enormous poetry brand that it was when I renounced poetry in 2012. It was an incredible ten years. I remember sitting in an art dealer's loft in Brooklyn and telling his girlfriend that Jon Leon was a ten year long performance act designed to revolutionize people's thinking about poetry. Aghast, she insisted that I wasn't serious and that I was Jon Leon, the Jon Leon, the poet Jon Leon. I think people's belief in the brand was greater than people's belief in the person. Once the ride was over it didn't take long for me to lose practically all of my "friends." But Jon Leon lived on in blurbs, memes, essays, reviews, haikus, and rumors despite very few people ever actually seeing a Jon Leon book in real life, and pretty much no one ever actually meeting me in real life. I'm okay with that now, because despite my personal losses, and the sacrifice required to remain behind the scenes while the brand shines out, Jon Leon was a success. Jon Leon was high art.
Building a strong poetry brand means you have to be a great writer first of all, but more importantly you have to be a great manipulator. You have to finesse every situation so that the end result increases brand equity, even if the material result is a so-called failure. Let's be real, there are no true failures, whatever that means. One person's failure is another's success. Neither concept is productive within the perfected reality of the brand. You have to be unprejudiced and able to execute a consistent message. There were times when I thought I had found the real edge in my personal life. At those times I knew that all I had to do was put on a Genesis CD and do some Jon Leon. Jon Leon could bring the joy into America like nothing else, and if that wasn't working I could watch Madonna: Truth or Dare.
People have to remember that words are empty. This is a hard pill to swallow for people who stake their careers on the language arts, rhetoric, and writing. We want to believe that our words, our language, our line breaks will be the break we've been waiting for. But it doesn't often happen that way. People have been touching each other for a lot longer than they've been talking to each other, and way longer than they've been writing to each other, and even way longer than they've been thinking non-functional gratuitous writing could be good for its own sake. If creative writing is for its own sake, an utterly unreasonable act, then we can accept that its first order is the game. And nobody's better at the game than a player.
I don't feel nostalgic for Jon Leon. I feel nostalgic for what it felt like to create a brand from scratch. Managing impressions is the essence of the game. There were moves that I invented, moves I pulled straight out of other writers' biographies, and signature moves that became genuine Jon Leon. Much of the strategy was simply best practice for any luxury name. The first private edition was a pull strategy that proved so successful I could hardly believe it was real. There were only about twelve copies of that book printed but they made it possible to launch Jon Leon on a scale that exceeded my best-case scenario. I literally got culturally rich off a mixtape. To this day, thanks to the very particular strategy behind Jon Leon, and to my attorney, I own the rights to every Jon Leon book. This includes the ones people have read, the ones people have only heard about, and of course the ones I never showed anybody.
Everybody wants to believe that their poetry is worth reading. Nobody's poetry is worth reading. It's a matter of fact. In the poetry sector you figure out really quickly that social life is more important to its participants than anything else. A great poetry brand has to be worth talking about. Often that starts with great writing, but great writing alone does not make great conversation. Great authors make great conversation. Jon Leon was about bringing the fantasy of success to a game predicated on insecurity and self-censorship. In the world of intellection in which Jon Leon operated this was best achieved by complicating the meaning of author. It wasn't about the death of an author. It was a zombie author. There is architecture without architects, there are managers without capital. There are authors without books.
As I prepare for the release of my second full-length collection, The Arrivistes, slated for publication with Manchester-based Dostoyevsky Wannabe, I find it helpful to reflect on the impact of Jon Leon. A trajectory that started out as a loose vibe, evolved into a fiction, and became a heightened reality that could rival Hit Wave. People like to talk about the surface of things because that's where the truth resides. You have to objectify everything, you have to look deeply into the surface. A master once taught me that Zen is a dance on the knife's edge. Jon Leon was neither one thing nor another. It was always designed to drop like an ice cube into seltzer and melt away.
Jon Leon is an American poet and cultural critic. He is the author of The Malady of the Century (2012) and a number of privately issued titles and special editions.