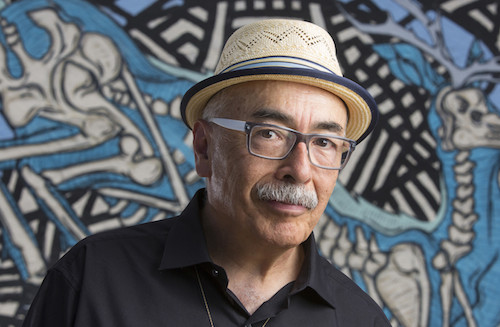 For the newest installment in its on-going, monthly series of poetry reviews, The Washington Post calls attention to new collections by Juan Felipe Herrera, Major Jackson, and Tony Hoagland. The series is written by Elizabeth Lund. First up: Lund's assessment of a new collection by the United States poet laureate which, she writes, "provides a splendid introduction" to Herrera's "expansive work." More:
Notes on the Assemblage (City Lights; paperback, $14.95) provides a splendid introduction to the expansive work of Juan Felipe Herrera, the nation's new poet laureate, who will read at the National Book Festival on Sept. 5. In this book, which will be released in September, readers will find a singular voice and an agile mind that shifts easily from one topic and style to another. The collection opens with a lovely, rich piece on clouds : "you/ touch them they take you  you find yourself in their absence." Herrera, an activist for at-risk youth , then recalls the loss of Mexican students and unarmed black men at the hands of police: "if all the laws are Freedom for you for me why do we/ not speak." The son of migrant farm workers, Herrera powerfully conveys the experience of migrants who have languished in detention camps and feel apprehensive as they approach the U.S. border. He also knows, firsthand, the frustration of being labeled "half Mexican," as if he were neither a true Mexican nor a real American. (Several of the poems are in Spanish and English.) [...]
Learn more about Herrera's new work, and about collections by Hoagland and Jackson, at The Washington Post.