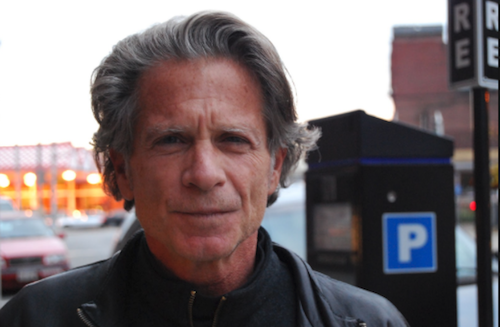 Over the weekend Hyperallergic published Magdalena Zurawski's review of Michael Gizzi's Collected Poems (The Figures 2015). Gizzi passed away in September of 2010. Zurawski begins by writing about her personal connection to Gizzi through her time as a student at Brown, and through her teachers Keith and Rosmarie Waldrop, and Gizzi's brother Peter. For Zurawski, Gizzi's presence was certainly impactful: "The handful of times I was in a room with him, he made repartee an extreme sport where few had the chops to keep up. It was like being in his private terza rima. One could get hit by a flying verb." She goes on to survey Gizzi's poetic output:
In reading through the Collected Poems (2015), I was given a lesson in how writing for Gizzi became an act of transubstantiation in the most literal sense, how attending to the aural material of language allowed lived experience to transform into bop, so that life in the poems became what Jack Spicer called the "furniture," the flesh meant to carry a groove without contributing to the feel of it.

In the introduction Gizzi's friend, the poet William Corbett, observes that "doors opened" for Gizzi through Kerouac and jazz, a freedom first seen in his chapbook from 1990, "Just Like A Real Italian Kid," which riffs on Gizzi's childhood memories of his Italian-American upbringing. Here the ear serves the narrative, the rhymes and rhythm furthering description:

And Uncle Pacifico who made the mostest of his shortness with Valentino sly smile like Christmas in July. Together we were a tough guy, spaghetti-benders from way back. I never met a man who didn't like him. Pach was the Dago National Treasure the Boot was yet in the dark about, but Marco Polo weren't spoiled more with women and pasta in the Orient. He told me tales of Abe Lincolni who freed the slaves and the Yankee Clipper who when he got four balls you said, 'Walka proud, Joe!'
In Gizzi's later work, Zurawski sees a shift toward an even greater foregrounding of sonic elements in the poem:
In later collections such as My Terza Rima and McKenna's Antenna's, (both 2001) such autobiographical narrative ground has completely vanished. Interestingly enough, Gizzi's note at the beginning of McKenna's Antenna's, proclaims, "I've never felt so right writing poems, so don't ask me to explain." (376) Is this poetry right because it's a liberation from self? These pieces, composed while listening to Rhode Island jazz pianist Dave McKenna, are pure play, as Gizzi's stellar recording of them shows. Gizzi, depending on your prejudices, elevates and/or reduces words, their narrative finger pointing to pure tonality.
There's more to read at Hyperallergic.