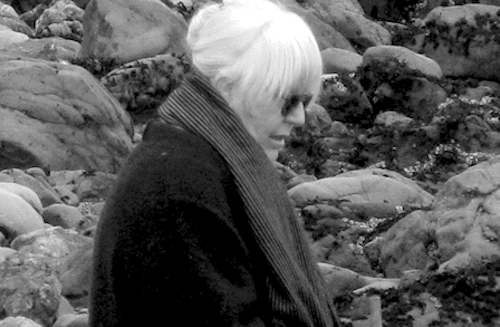 We'd certainly be kicking ourselves if we missed this conversation with one of our favorite Bolinas poets, Joanne Kyger. Zachary Clark at Where Traveler talks to Kyger about her latest book, On Time (City Lights 2015), her relationship with the city of San Francisco, and her friendship with poets. Kyger begins by describing her early years and associations in San Francisco:
I came up from UC Santa Barbara to San Francisco in 1957, already confident that I knew modern American poetry—William Carlos Williams, T.S. Eliot, Hilda Doolittle, Ezra Pound. Then I read the poets associated with the San Francisco scene—Kenneth Rexroth, Robert Duncan, Jack Spicer, Lawrence Ferlinghetti, Gary Snyder and then Philip Whalen—Reed College graduates from the Pacific Northwest; and Allen Ginsberg and Jack Kerouac, the Beat writers. The so-called Beat writers we all considered New Yorkers.

Black Mountain College had closed a few years earlier, and I met students from there who had moved to San Francisco. We became close friends. They introduced me to Charles Olson and Robert Creeley. It was from these sources my own writing voice evolved.

You're one of the few female poets associated with the Beat Generation. As a woman, what was it like being part of a male-dominated movement known for its masculinity? Were you taken seriously by the male poets?

I get asked this question often, and to be honest I never noticed I was in "male-dominated" groups. There were always women I was friends with associated with these groups. But few were interested in poetry and writing to the degree I was. I loved the company I was in—poets—who took my writing seriously because I did.

What do you remember most about San Francisco during the time of the San Francisco Renaissance and Beat movement? How is the city different today and do you feel the spirit of that era still lingers?

North Beach and Grant Avenue made a wonderful intimate neighborhood in 1957 when I arrived. Anchored by City Lights bookstore and Vesuvio bar, there was also The Place at the other end of Grant Avenue—a wonderful tiny gathering place for poets serving wine and beer at 25 cents per mug.

There were also family-style Italian restaurants like The New Pisa, where one could have a meal of many courses including wine for $1.35. The Coffee Gallery is where jazz was played and paintings were shown. And The Cellar, where one could hear Ferlinghetti, Kenneth Rexroth and often David Meltzer read poetry to jazz. All locations were easy to walk to, like a campus. I thought it was like going to a graduate school of growing up. I was 23 and living by myself for the first time.
Head to Where Traveler for the full conversation.