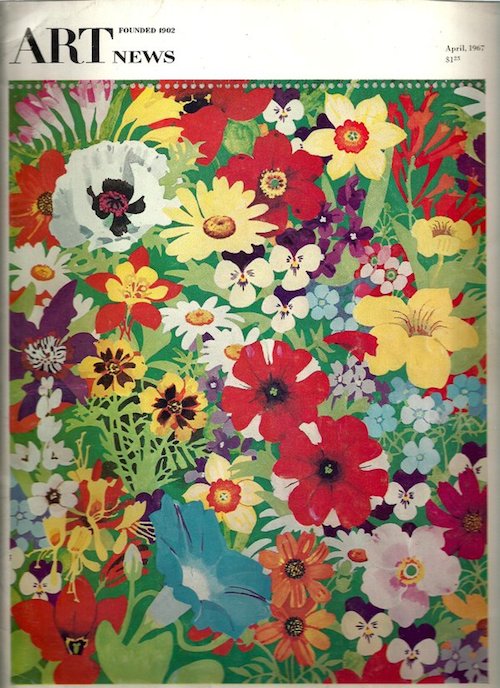 Don't mind if we write up a write-up, do you? At Locus Solus, a look at Nick Sturm's recent Fanzine essay on Ted Berrigan's art writings: "For months, Sturm has been scouring the Berrigan archives, turning up fascinating gems, hilarious pictures, and fugitive publications. He's now brought together some of the fruits of that labor in the form of this valuable essay, which is the first of a two-part series: a thorough account of the substantial but almost completely overlooked body of art criticism Berrigan wrote in the 1960s for ARTnews." More:
Sturm begins by noting that both Berrigan's extensive work in prose and his ample connections to the art world have been largely ignored:

Outside of his peers, the fact that Berrigan wrote much prose–an anthology introduction, serious, parodic essays, book reviews, a novel–is mostly unknown. But the "Ted's Prose" folder is surprisingly thick, mostly with his writing about art in New York in the mid-1960s for the influential trade magazine ARTnews. What's immediately clear from reading Berrigan's art writing is that the New York art world was a scene that Berrigan was completely and happily entangled in. It was work that, threaded with friendships and his own aesthetic self-education, placed him in a direct lineage with the poet-art critics he most admired: John Ashbery, James Schuyler, and Frank O'Hara. And while these canonical New York school poets are celebrated for their ekphrastic aesthetics and successful careers as curators and art critics, the more teachable narratives of Berrigan's life and the "second generation" New York school have not noted his role as an art critic. Reading the critical references to Berrigan, where he often appears as a minor character or footnote, it becomes hard to imagine him as someone who was meaningfully engaged in aesthetic practices with visual artists in a "serious" or even study-able way.
Read the entirety of "The Pollock Streets: Ted Berrigan's Art Writing, Part I" at Fanzine. At top: Joe Brainard's cover of ARTNews, April 1967.