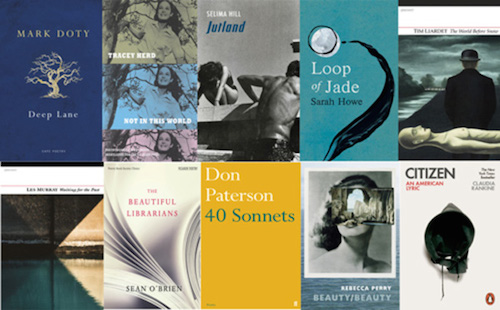 At Boston Review, Dai George reads the 2015 T.S. Eliot Prize Shortlist. The prizewinner--who will receive £20,000, the most of any single poetry prize in the UK, "and serious bragging rights"--will be announced on Monday, January 11. The shortlist, chosen out of a record 142 books submitted by publishers, includes Americans Claudia Rankine and Mark Doty. George places the content in context: "One doesn't have to travel too far down the road of conspiracy and recrimination to recommend the sober, factual analysis of Fiona Moore, a poet and blogger who has done valuable work crunching the numbers to prove how far British poetry prizes have to go before they can claim to represent the full breadth of an increasingly vibrant and diverse publishing ecosystem." In this light, a look at Rankine's Citizen:
The representation question feels particularly urgent this year since the favorite has to be Claudia Rankine's Citizen: An American Lyric, a book that scrutinizes how black men and women—particularly black American men—are diminished and violated every day. It would seem a woeful category error to invite comparison between the serious, insidious brutality exposed in Citizen and this rarefied anxiety over how a book by a black woman will fare in competition for a literary prize that reflects the white cultural establishment—would seem so, were it not for the fact that Citizen confronts the white British literary establishment in its very text.

In a passage titled "August 4, 2011 / In Memory of Mark Duggan," Rankine restages an encounter between her multivalent "you" and "A man, a novelist with the face of the English sky—full of weather, always in response, constantly shifting, clouding over only to clear briefly." They are talking at a party in an expensive house in Hackney, the borough that erupted into violence during the 2011 London riots. The casus belli for the riots was, ostensibly, the police execution of the unarmed Duggan, and our craggy, well-meaning novelist wants to know if Rankine would ever write about this moment of specifically British racism. His question, apparently innocent and engaged, turns into one of those flare points of estrangement that Rankine captures with gut-churning precision: Why couldn't he write about it himself?

How difficult is it for one body to feel the injustice wheeled at another? Are the tensions, the recognitions, the disappointments, and the failures that exploded in the riots too foreign?

Rankine pulls off a great, and slightly risky, technical feat when she turns the novelist by degrees into first "the man made of English sky" and then simply "the English sky." By conflating him with the low-key melodrama of English weather, Rankine risks demeaning the novelist as an exotic "other" himself, an object defined by the clichés of his homeland. But this transition to "sky" works precisely because it enacts the inverted prejudice that prejudice provokes: the blankness, the zoning out from particularities, the reflexive withdrawal that occurs when someone feels unexpectedly isolated by racial assumptions.

When I look over the Eliot Prize's shortlist, I can't shake off this parable of the Hackney novelist. Citizen has already won much attention in Britain, having been picked up for Penguin's rejuvenated poetry list, glowingly reviewed across the board, and awarded another major accolade, the Forward Prize for Best Collection. Rankine's victory was welcomed in all quarters, a rare outcome in the famously fissiparous British prize culture. It's not hard to understand why: Citizen is that rare book that both improves and transcends its genre, a collection innovative enough to satisfy the modernists and immediate enough to appeal to booksellers.

However, that feel-good moment may have masked more troubling and unpalatable truths underlying literary Britain's relationship with race. Writing recently in The Los Angeles Review of Books, Sandeep Parmar argues that Citizen is "a striking example of exactly what is not happening in popular British poetry."
George also reads closely the work of Doty, Les Murray, Sean O'Brien, Selima Hill, Tim Liardet, Don Paterson, Tracey Herd--and the debut collections, Beauty/Beauty by Rebecca Perry and Loop of Jade by Sarah Howe. While confessing his bias--George knows both Perry and Howe--it's still worth considering his remark that "Howe is the sole British writer on this shortlist who displays a fraction of Rankine's drive to make language and poetic form respond to the shifting structures of twenty-first–century identity politics."
Read it all at Boston Review. And stay tuned for the announcement on Monday.