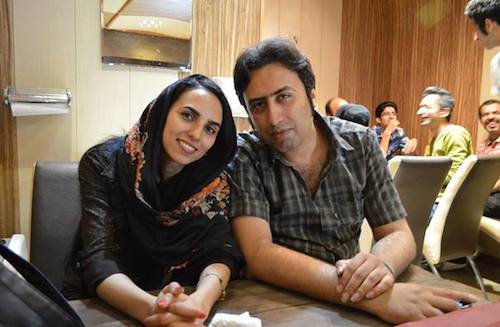 Late last year we reported on the arrest and sentencing of Fateme Ekhtesari and Mehdi Moosavi in Iran. Both were given lengthy sentences and 99 lashes for spreading propaganda against the state and "illicit relations" (shaking hands with the opposite sex). Today, however, we learned that Ekhtesari and Moosavi have escaped Iran. At The Big Story, Jon Grambrell writes:
Two Iranian poets who face lashings and prison sentences have fled Iran, one of the writers said Monday, a rare escape for local artists and activists ensnared in an ongoing crackdown on expression in the country.

Fatemeh Ekhtesari and Mehdi Mousavi's freedom came as world powers lifted sanctions on Iran over its contested nuclear program and as the country separately freed four Iranian-Americans in exchange for seven Iranians held in the U.S.

[...]

Ekhtesari, a practicing obstetrician, told The Associated Press on Monday that both she and Mousavi, a trained doctor who teaches literature and poetry, escaped from Iran in recent days and made it to another country. She declined to elaborate out of continuing concerns about their safety.

Ekhtesari faced an 11½-year prison sentence, while Mousavi faced nine years on charges ranging from propaganda against the state to "insulting sanctities." Each also was sentenced to 99 lashings for shaking hands with members of the opposite sex. They likely were targeted because their work is known abroad. Both are self-described "postmodern Ghazal" poets who seek to revive the traditional Persian love sonnet by applying it to contemporary political and social issues.
Head to The Big Story to read the article in full. We'll continue to report on the story as it develops.