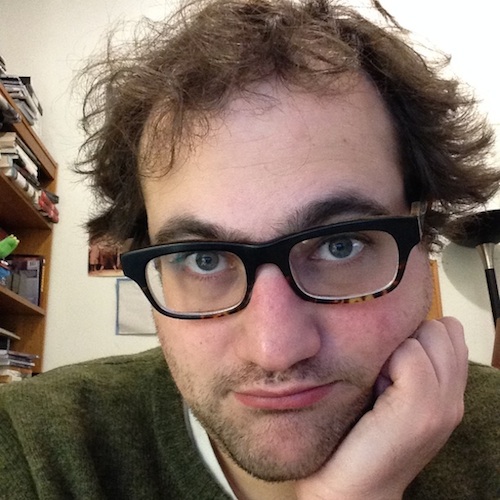 After the low start to the week, may this excellent interview with Brooklyn poet and translator Ian Dreiblatt at Brooklyn Poets cheer you up. Quick background: Recent translations include Gogol's The Nose and Comradely Greetings, a book of prison correspondence between Pussy Riot's Nadezhda Tolokonnikova and Slavoj Žižek. Last year he published two chapbooks: sonnets, from Metambesen, and barishonah, from DoubleCross Press. We're so lucky to get to know a bit of this wonderful mind--read (and listen to) it all here.
Who were your poetry mentors and how did they influence you?

Oh wow, very hard to list everybody! I've learned so much from so many different people. But any list I made would include Robert Kelly, who turned me on to a huge number of the poets that have meant the most to me, and has for all the nearly twenty years I've known him been exorbitantly generous with response, encouragement and suggestions.

Ann Lauterbach was another early teacher whose responses to the work she let me share with her, even many years later, continue to bounce around productively in my head.

For a while when I was younger I lived in St. Petersburg, Russia, and had the incredible luck of knowing and working with Arkadii Dragomoshchenko. He was a mentor in a very literal way—he would sit down with translations I had made of his work, and go over them in great detail, explaining what, from his perspective, was working, and what wasn't.

Peter Dimock is another friend and mentor, who's lived in Brooklyn for most of the time I've known him, altho he just recently moved upstate. Peter's a novelist, but in a mode of novel-writing that is very nearly poetry, and his thinking about the relationships between writing and editing, the literary and the social, language and power is incredibly nourishing.

Tell us about the last book(s) and/or poem(s) that stood out to you and why.

Oh jeez. I recently had the total pleasure of hearing Vivek Narayanan read from some of his work that unstraightforwardly—and heart-stoppingly—translates the Ramayana. I'm a huge fan of Gracie Leavitt's writing and I thought her poems in the most recent Elderly made life pretty worth living. The aforementioned Tommy Pico's Nature Poem. Robin Coste Lewis's The Voyage of the Sable Venus is totally wonderful. David Larsen's translations in his recent chapbook Lightning Scenes were a total feast and I loved them. I'm also super-excited for erica lewis's new book, but I haven't read it yet so I guess it doesn't count as an answer to this question.

What are some books or poems you've been meaning to read for years and still haven't gotten to?

Most of them! I still haven't read Madness, Rack, and Honey, which feels a little like saying I've never taken a bath. A book I have always wanted to spend some time in is Joseph McElroy's Women and Men. I haven't read the novels of Sylvia Townsend Warner, which mean a huge lot to Anna [Gurton-Wachter] and other people I look up to, and really want to. Through the Valley of the Nest of Spiders. And oh shit: Middlemarch.

Describe your reading process. Do you read one book at a time, cover to cover, or dip in and out of multiple books? Do you plan out your reading in advance or discover your next read at random? Do you prefer physical books or digital texts? Are you a note-taker?

It's pretty chaotic and improvised. Usually I'll have one or two books that I'm reading start-to-finish, with side journeys through articles, poems and other things that erupt into my attention and wind their own trails beside and around the main ones. So for instance right now I'm reading two books, both wonderful: Rebekah's Rutkoff's The Irresponsible Magician, which is amazing—as various, surprising, and rich in exuberant experience as life, but I can't say more yet because I haven't finished it—and Mary Beard's SPQR, a popular history of Ancient Rome that manages to be deep and transfixing while also zippy and fun. But lots of other stuff has cropped up in there too, much of it totally splendid—this includes some poems from Fred Moten; the Complete Light Poems of Jackson Mac Low, which is just absurdly beautiful; some bizarre and terrific essays on museum studies from the early Soviet period in Avant-Garde Muselogy, a book I was one of many translators on that's just out from e-flux classics; and the Enuma Anu Enlil, an ancient Mesoptamian collection of omens that's absolutely fascinating.