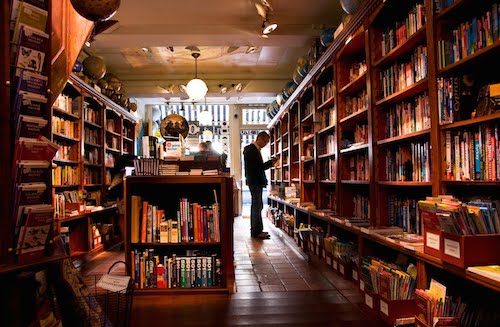 What's the best way to support the author who you admire and adore? In response to a recent Washington Post article applauding used bookstores' comeback, Kristin Lamb argued in favor of the straightforward economics on her blog ("Warrior Writers") where she writes in favor of buying new books instead of used because the revenue [eventually] goes back to the author. Now, Salon brings the discussion full-circle and argues in favor of perusing the stacks at your favorite second hand store, citing longer term benefits for authors.
Recently, writer Kristen Lamb came out swinging in a blog post lamenting that her fellow authors were eager to applaud the longevity of used bookstores, as detailed in a recent Washington Post article. Lamb was blunt about the economics of how authors earn a living: "Want to support a writer in the new year? BUY BOOKS. Writers are NOT PAID for the purchase of used copies."

She went on to say she puts her money where her words are, and backs up her industry with her dollars. "As a professional, I treat my fellow writers-at-arms the way I want to be treated. I do not buy used books as a first choice. If I DO happen to buy a used book, I make sure to purchase at least a digital copy so that writer is PAID for his or her hard work."

No one can argue with the facts Lamb lays out: Writers get paid when a new copy of their book is purchased in a brick and mortar or online store, and may get paid when their book is checked out of a library, depending on their contract terms. With libraries, at the very least, the number of requests and checkouts is carefully tracked. With used bookstores, authors don't see a dime directly from the purchase, nor can they find out how many people have purchased their books.

However, that doesn't mean that used bookstores are therefore taking money from writers' pockets, or that shopping in them is akin to piracy and hurting authors' careers, as Lamb suggests. She's right that consumers do need to be educated about how their art gets made, and what the real costs involved are. As YouTube vlogger Gaby Dunn so aptly detailed in her Fusion article on the precarious economics of video income earnings, those who consume creative products should be aware of how its creators get paid. That's a first step toward supporting the work of the writers (and musicians, filmmakers, vloggers, etc.) you want to keep on creating. We may get into writing for the love of it, but it's also our job. Nobody is arguing with Lamb that writers don't deserve to be compensated.
Read more of Salon's summation at Salon.com.