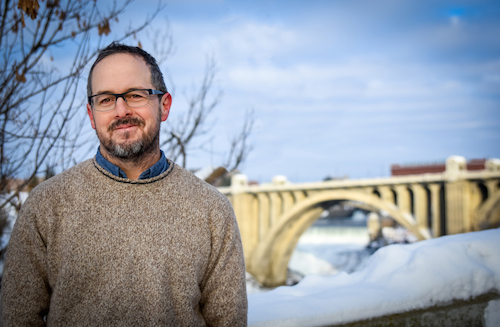 Tod Marshall is Washington State's newest (fourth) poet laureate: Marshall teaches at Gonzaga University where he is the Robert K. and Ann J. Powers Professor Chair of the Humanities and resides in Spokane. His appointment spans from February 1, 2016 to January 31, 2018. More via Spark:
Tod Marshall, an award-winning poet and a professor at Gonzaga University, has been appointed the fourth Washington State Poet Laureate by Governor Jay Inslee. Marshall's term will run from February 1, 2016, to January 31, 2018.

Marshall is the author of three poetry collections: Dare Say (2002), The Tangled Line (2009), and Bugle (2014), the latter of which won the Washington State Book Award in 2015. He also is a professor of English at Gonzaga University. He succeeds Elizabeth Austen, the state's previous laureate, who served from 2014–2016. Kathleen Flenniken (2012–2014) and Sam Green (2007–2009) held the position prior to Austen.

[...]

Karen Hanan, executive director of the Washington State Arts Commission (ArtsWA), and Julie Ziegler, executive director of Humanities Washington, agree that it takes a unique combination of skills to be successful in this position.

"The Washington State Poet Laureate must be more than a talented writer," said Hanan. "We've been fortunate that all our past poets laurate—and now Tod—have been willing to travel the state meeting communities face-to-face. He or she must be a relentless advocate for the importance of poetry."

"Tod is a terrific poet and a gifted teacher," added Ziegler. "We are excited to have our next laureate based in the Northeastern corner of the state. This will bring a new perspective and opportunities for outreach to this program."

Marshall was the first in his family to attend college and has dedicated himself to bringing humanities experiences to underserved populations.

"Poetry matters—not just to poets, professors, and students: poetry matters to everyone," said Marshall. "I was a first-generation college student, and because of that, I understand the skepticism that many have for the arts. But I've also come to realize that the inner life that the arts and humanities can nurture is important to living deliberately and introspectively. So I am interested in how poetry and all of the arts can help us find our best selves.

"When I meet people throughout the state," he said, "I hope to reinforce a message that as children they probably took for granted: their voices, their words, their songs of the self, are important and need to be heard."
Continue reading at Spark.