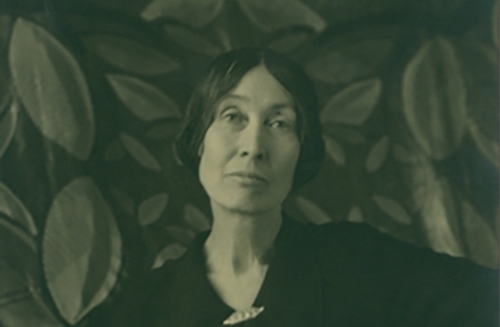 Boston Review presents an excerpt from Terese Svoboda's long-awaited, full-length biography of Lola Ridge, Anything That Burns You: Lola Ridge, Radical Poet (Schaffner Press, 2016). (Harriet first wrote about Ridge a few years ago in our extended footnotes after Hemingway's "The Lady Poets with Foot Notes," but Harriet Monroe herself wrote of Ridge in 1927: "Lola Ridge's muse must be close kin to Atalanta.")
"Ridge was ... an anarchist when anarchy was a political possibility, especially among intellectuals and artists—and immigrants, those who had left their home country to pursue the dream of freedom in the country that promised it," writes Svoboda. More:
In 1919 Ridge gave a speech in Chicago entitled "Women and the Creative Will" about how sexually constructed gender roles hinder female development—ten years before Virginia Woolf published "A Room of One's Own." "Woman is not and never has been man's natural inferior," Ridge announced. Although she wrote little personal poetry, Ridge advocated individual liberty. She supported not only the rights of women, but also laborers, blacks, Jews, immigrants, and homosexuals. She wrote about lynching, execution, race riots, and imprisonment. As a rebellious lefty, she interacted closely with the most radical women of her era, from editing Margaret Sanger's magazine on birth control in 1918, to reciting her own poems at Emma Goldman's deportation dinner. Eventually she was arrested during the demonstration against the execution of Sacco and Vanzetti, and hauled off with Edna St. Vincent Millay. In 1936, watching a parade in Mexico City, she raised her fist in solidarity with the marching Communists.

Despite being declared in her New York Times' obituary to be one of the leading poets of America, few have heard of her today. She died in 1941 at the nadir of leftist politics, just as the United States was entering World War II. By then Eliot and Pound had very effectively equated "difficult" (read "elitist") with "good" in poetry. Surely the sixties generation that rediscovered feminism and anarchy would have resurrected her. Not quite. Although her work appears in two important anthologies of the period, and her life as an anarchist should have had great appeal to the revolutionary spirit of the time, her poetry has not been revived. For the last forty years, her executor has promised a biography and a collected works while obstructing access to Ridge's papers, contributing to Ridge's relative obscurity and neglect. Feminist critic Louise Bernikow singled out Lola Ridge and Genevieve Taggard as twice-neglected because they were women and radicals, part of "the buried history within the buried history." Although poetry has always addressed society's problems and recorded its cultural and political history—whatever its formal precepts—society has not always wanted to hear about them. What has been lost by these omissions is the radical and political tradition in twentieth-century American poetry, and the idea that such subjects were even appropriate for poetry. An entire generation and tradition of American poetry has essentially been amputated from literary consciousness.
The poem above--and the biography's title--is recalled near the end of the excerpt, when Svoboda writes: "The freedom she exercised came at a time when the Russians were in revolution—and the Baroness Elsa von Freytag-Loringhoven upended a urinal on a pedestal (a work for which Marcel Duchamp, her erstwhile friend, stole the credit). Politics + art + free expression + women = fire, Ridge's favorite image."
Read the full piece at Boston Review; and find a new selection of Lola Ridge's poems here and another collection on our site, along with this conversation between Svoboda and Kathleen Rooney.