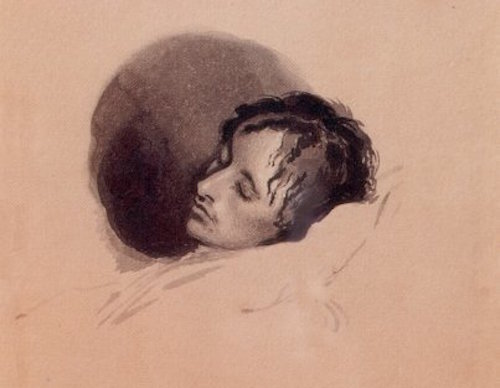 Yesterday was the anniversary of John Keats's death, 195 years ago in 1821. At the Paris Review Michelle Stacey marks the occasion by writing about Keats's final years and the mysterious epitaph he asked to be inscribed on his tombstone: "Here lies One Whose Name was writ in Water." Stacey begins the piece with a look at the Keats-Shelley House in Rome and the Keats House in London:
Among the dozens of fountains in Rome, the Trevi may be the most famous, but the Barcaccia in the Piazza di Spagna arguably has a lock on the most poignant. Commissioned in 1629, it sits at the foot of the Scalinata, or Spanish Steps, swarmed by hordes of tourists in high season. Boat shaped to commemorate the spot where, in the historic flood of 1598, the Tiber River reached its highest level and improbably deposited a river barque in the square, the Barcaccia now seems a light-hearted way station, an oasis on a hot Latin day.

But nearly two centuries ago, the fountain played a far different role for one particular admirer, a transplant from England who roomed in an apartment above the steps and listened incessantly to the murmurings of its waters. To this visitor, the Barcaccia was a temporary lifeline during a few dark winter months at the turn of 1821, as he coughed and spluttered his way to a tragically early death. That doomed young man, as devotees of English Romantic poetry know, was John Keats, and the apartment where the poet, barely twenty-five, breathed his last from tuberculosis, on February 23, 1821, is now the Keats-Shelley House, a meticulously kept museum and scholarly library founded in 1909. It's there, in the room where Keats died, that you will find the key to a misapprehension—one could almost say a lie—about his life and death that has been promulgated, literally written in stone, since 1823.

To understand that falsehood, one must retrace Keats's steps back to England, where he was born and lived for most of his life. There is a Keats House museum in his native land as well, in another of his former homes—in Hampstead Heath, on the north side of London—where he wrote virtually all of his greatest works, and which conveys an almost visceral sense of his life.
Stacey continues on to consider the mysterious, Zen-like epitaph:
There's no doubt that Keats foresaw his death with brutal clarity. The question that begins in the London Keats House and continues in Rome—both at the Keats-Shelley House and at Keats's gravesite—is how exactly he felt about that. Surely heartbroken, frightened, frustrated, despairing. But the words that he asked his friends to have carved into his gravestone—only these words, not his name—conjure an enigma: "Here lies One Whose Name was writ in Water."

Is this epitaph an angry protest against the unfairness of a fate that appeared to have deprived him of a chance of immortality, or an almost zen-like statement of resignation and of the impermanence of all existence? In support of the former, friends told of Keats's fears, long before he became ill, that he would die young, before he'd had time to construct a great poetic legacy. One of his best-known sonnets begins: "When I have fears that I may cease to be / Before my pen has gleaned my teeming brain, / Before high-piled books, in charactery, / Hold like rich garners the full ripened grain … " The fear is specific; it is not simply a dread of dying, but an artist's dread of dying without achieving his creative destiny. But Keats also famously wrote to his brother George in an 1818 letter, "I think I shall be among the English poets after my death." And that statement came just a few months after scathing reviews appeared of his first epic poem, "Endymion."
Dig further at the Paris Review.