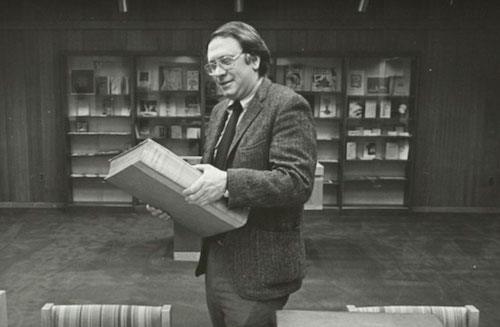 Scholar, author, and longtime, dedicated curator of the Poetry and Rare Books Collection at SUNY Buffalo, Robert J. Bertholf died at his home in Austin, Texas on February 19th. The UB Reporter noted Bertholf's passing last week, writing:
Bertholf joined UB as curator of the Poetry and Rare Books Collection in 1979, and held that position until 2005, when he was named Charles D. Abbott Scholar of Poetry and the Arts. He retired from UB in 2007.

His areas of special interest and research included the poetry of Duncan, the influential experimental poet who co-founded the "San Francisco Renaissance" in American poetry, as well as that of Ezra Pound, William Carlos Williams, Wallace Stevens and Charles Olson. He published widely in scholarly journals, and served for eight years as editor of the literary journal Credences. He also edited Northwest Review, and was former American editor of the Australian journal New Poetry. He served on the editorial boards of The Journal of Modern Literature and the William Carlos Williams Review.
Yesterday Dale Smith posted a remembrance recalling Bertholf's intellectual support and friendship, and detailing two book projects Smith and Bertholf edited together, concerning the correspondence of Charles Olson and Robert Duncan, as well as a series of lectures Duncan gave on Olson. Smith writes:
Robert J. Bertholf died February 19 at his home in Austin, Texas. I've been thinking about him daily since, and trying to understand the sudden silence after so many years of close contact and correspondence. He studied a generation of poets who have always been important to me—Robert Duncan, Ted Enslin, Robert Graves, and many others. He delighted in the lives and works of poets like Robert Creeley, Edward Dorn, Susan Howe, and Wallace Stevens, and related the particular realities of a life spent in the study of poetry as he experienced it with tremendous charm and insight. His eyes were bright, sparking with excitement. I miss his mercurial wit and laughter.

I met Robert years ago at SUNY Buffalo around the time he was leaving his position there as curator of the Poetry Collection, an impressive archive of 20th-century writing that includes documents by James Joyce and many others. He and his wife Anne Bertholf moved to Austin, Texas, where I was in graduate school at the University of Texas, and we quickly became good friends. Robert and Anne attended poetry readings we hosted, supported a number of local presses, and provided me important insights and direction as I completed my dissertation.
Smith goes on to discuss their collaborative editing work:
When I was leaving Austin in summer 2011, Robert dropped off a large cardboard box of manuscripts and told me to look at them when I had some time after settling into my job at Ryerson University. When I finally opened the box I discovered the correspondence of Robert Duncan and Charles Olson along with the transcriptions of a series of lectures Duncan gave on Olson over a twenty-year period. We determined to work on finalizing the material. There were delays on both our sides, though mine probably were the most pressing as I struggled to meet the requirements of the university's tenure system while negotiating my particular academic and creative needs. We worked in earnest for several years, updating notes, organizing glossaries, proofing delicate moments in the manuscripts, and finally writing introductions to what will finally be published in two volumes: An Open Map: The Robert Duncan / Charles Olson Correspondence and Imagining Persons: Robert Duncan on Charles Olson. Both are projected to appear fall 2017 with the University of New Mexico Press's Recencies Series: Research and Recovery in Twentieth-Century American Poetics. I only wish Robert would be able to see the final publication of these works, though I know he was delighted to see the texts enter the final stages of the review process.
Head to Slow Poetry in America to read on.