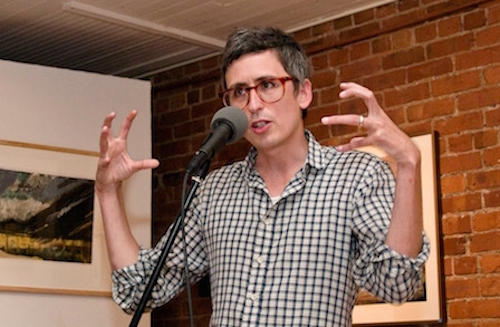 You can't get enough of it! At City Lights's blog Abandon All Despair Ye Who Enter Here, Garrett Caples brings to readers' attention Julien Poirier's innovative poetry album Higher in Canada. (Poirier's next poetry collection Out of Print is forthcoming from City Lights's Spotlight series.) Caples starts off with a look at the recent Kyla Marshell essay recently published ici. More:
I've been thinking lately about the poetry album as a form of art, prompted in part by the wonderful biographical account Kyla Marshell wrote of the late Sarah Webster Fabio, "The Mother of Black Studies," for the Poetry Foundation website. Though her work was included in the recent Black Arts Movement reader SOS—Calling All Black People (UMass, 2014), edited by Sonia Sanchez, John H. Bracey, Jr., and James Smethurst, Fabio is in the peculiar position of having no books in print, but having "four spoken-word albums, recorded in the 1970s for Folkways Records . . . readily available on iTunes and Spotify." As Marshell tells it:

These four albums—Boss Soul (1972), Soul Ain't, Soul Is (1973), Jujus/Alchemy of the Blues (1976), and Together to the Tune of Coltrane's "Equinox" (1977)—feature Fabio reading her poems over a rollicking '70s funk band reminiscent of Isaac Hayes or Curtis Mayfield, the bass, congas, and guitar licks just begging to be the soundtrack of a black action flick. The band was called Don't Fight the Feeling, and featured her three sons: Ronald on bass, Thomas on special effects and as "narrator," and Cyril Jr. on congas. A former student, Leon Williams, played piano, saxophone and flute; her son-in-law Wayne Wallace played lead guitar.

These recordings are every bit as good as Marshell makes them sound. Though recorded for Folkways, they have all the awesome black power ambiance of those old Strata-East records by the likes of Pharoah Sanders and Gil Scott-Heron, though as Marshell indicates, the grooves are less jazz and more blacksploitation funk. It's almost unreal to hear a poet fronting such a tight musical ensemble as Don't Fight the Feeling, and the fact that this group came together specifically to back Fabio speaks volumes about her talent and force of personality.
Caples goes to talk about his own efforts with the poetry album, and gives us a little nostalgia for the days of Narrow House Records. Some thoughts:
In 2006, I was lucky enough to have Justin Sirois and Narrow House Records ask me to record a poetry album, which they released under the title Surrealism's Bad Rap. Let me assure you this album is nowhere near Sarah Webster Fabio's level of awesomeness. Nonetheless, I was very fortunate to have the opportunity to try out some ideas about the poetry album in the course of making this disc. There are some "straight" recordings here, just me reading a poem, but the better part of the album features weird little beats and samples I made to record over. Having several musician friends, I was able to get some actual playing on there, and I even got Oakland rapper J.Stalin to make a couple of cameos. But my main interest in making the album was to experiment with stacking vocal tracks in a manner I'd learned from hip-hop: doubling or tripling certain lines or words, adding different effects to different voices, or interjecting subliminal commentary on a given line after it was delivered. In short, I wanted to use the recording process to make the art rather than simply capturing already-made pieces of art. Unmastered, ineptly mixed, the album is a big, dumb, sprawling affair that virtually no one purchased or listened to, yet I've seldom had more satisfaction in making something. Certainly it was something I needed to get out of my system and my one regret is that I imagine Justin still has 900 copies of the disc taking up space somewhere in his life. (Sorry, Justin!)
Continue at Abandon All Despair Ye Who Enter Here to hear Poirier's latest audio efforts.