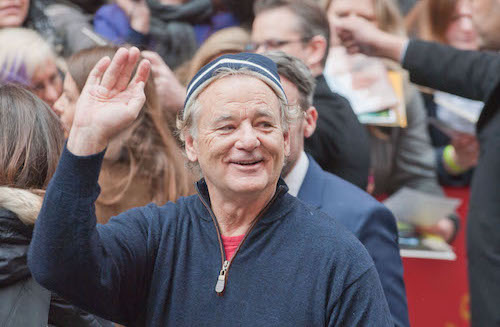 Yes, that's right. O Magazine's April issue hits newsstands imminently and with it comes a special feature curated by comedian and actor Bill Murray. Murray, who has been a poetry admirer for quite some time, and is also a supporter of NYC's Poets House, presents a few of his favorite poems in the issue by poets including Galway Kinnell and Naomi Shihab Nye. For more details, here's Rolling Stone:
Bill Murray continues his habit of popping up in unexpected places – from passed out front row at the Late Show to being dumbfounded by a last-second shot at the NCAA basketball tournament – this Friday when the actor shares some of his favorite poems in the upcoming issue of O.

In celebration of National Poetry Month, Oprah Magazine's books editor Leigh Haber reached out to the actor through a mutual friend, knowing that Murray was a supporter of New York's Poets House, The Associated Press reports. Two months passed without any response from the actor, but in true Murray fashion, he finally responded on deadline day with a batch of his favorite poems, along with his own comments and annotations.

"It was so funny," Haber told the AP. "He had scraps of paper on which he'd scribbled notes and Xeroxes of poems. His love of poetry was obvious from how much pleasure he took in reading the poems aloud to us."
Continue reading at Rolling Stone.