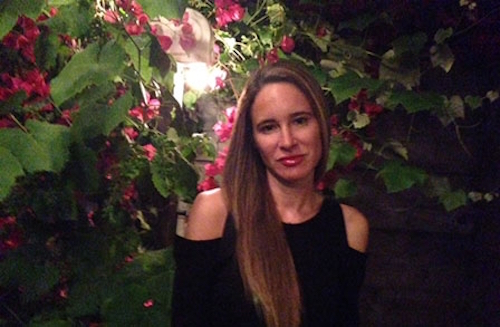 ELLE Magazine's Whitney Joiner wants to know why Melissa Broder is so sad today? All right! "Her diamond navel piercing is endearingly anachronistic for 2016, but somehow fits a grown woman who describes herself as 'still a teen.'" Here's an excerpt from a feature on the "world of Twitter's favorite depressive."
There is always, always more to confess, as readers will find out this spring, when Broder enters the long(er)-form game with So Sad Today (Hachette), an essay collection expanding on her Twitter persona. Like: her sexual obsessions with various lovers while navigating her husband's debilitating and mysterious progressive illness (they've been together for 12 years, married for 6, and have moved in and out of monogamy); highly personal detailings of her oldest and most primal sexual fantasies; the "insatiable spiritual holes" she has tried to fill in myriad ways, first with food, then men, drugs, and alcohol; the history of her panic attacks—she was diagnosed with generalized anxiety disorder and panic disorder at 22 and prescribed both the SNRI Effexor and the benzodiazepine Ativan; and a never-ending battle with self-destructive tendencies, which she deems "the committee." "When I'm sleeping, the committee stays up all night and then greets me at dawn with really bad ideas," she writes in the essay "Honk If There's a Committee in Your Head Trying to Kill You." "It's like, Good morning! Everything is shit! Time to act impulsively. But first let's start by getting into fights with imaginary people from the past."

What separates Broder from her confessional cohort, as "filthy" (her word) as her pieces are, is that she doesn't seem to be out to shock, but to survive. If her Twitter account is a darkly comic, "creative way to distract myself and cope," as she describes it, then her essays are deeper excavations of that same mind. "She's not trying to push boundaries, but she does," says literary critic Jason Diamond, who reviewed Broder's third poetry collection, Scarecrone, for Flavorwire. "Effortlessly pushing boundaries is tough to do, but she somehow does it."

"I'd be terrified to write the nonfiction she writes," says novelist Jami Attenberg, best-selling author of Saint Mazie and The Middlesteins, who blurbed Broder's book. "But I'm so glad she does it. It made me want to write as openly as she does. There's no denial. You almost wish there was, for her sake; sometimes denial makes things a little easier."

Her work has garnered the usual bitchy comments on various Web outlets ("another self-absorbed Internet hack," etc.) and a "Depression is not a joke" attack from collegiate hangout Thought Catalog—which also received multiple comments defending Broder ("I struggle with severe depression and bpd and I absolutely love sosadtoday because I relate to it")—but beyond that, she has few detractors. Her aching self-awareness is what shields her, hypothesizes Broder's friend and creative partner Karah Preiss, a video producer at the Huffington Post. "It would be hard to accuse [Melissa] of needing attention," Preiss says. "She'd be like, 'I know.' " While 300,000 isn't a stratospheric following, Broder created it on the strength of her tweets alone, and mostly anonymously, which carries a lot of meaning in the world of Twitter analytics. "People with millions of followers are celebrities," Diamond points out. "She's not—she built that audience."
More at ELLE.