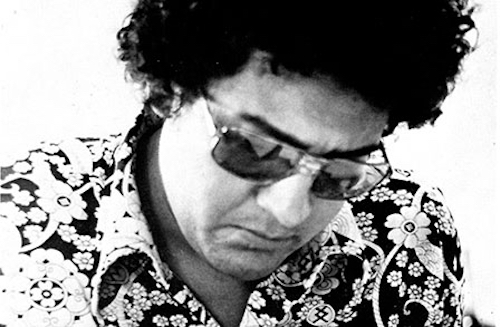 For an in-depth and considered appraisal of Frank Lima's Incidents of Travel in Poetry: New and Selected Poems (City Lights, 2015), you'll want to head to Bookslut where Patrick James Dunagan reads closely and finds much to admire in the new volume. He begins with a personal account of hearing the early murmurs of the book's genesis through his friendship with co-editor Garrett Caples. Dunagan writes:
The poetry world is ever fickle. Attention to the work of some poets takes off almost from the get-go, while for others the stars wax and wane over altering possible destinies. Take Frank Lima (1939-2013): a New York City-born protégé of Frank O'Hara and Kenneth Koch during the 1960s who truly came from "the streets," complete with bad habits ranging from petty crime to heroin use and alcoholism. His early work startled readers with its upfront presentation of these matters, along with a thorough routing of the incestuous and sexually promiscuous home environment in which he came of age. In Lima's case, however, his early books and presence among the very-in-crowd of fellow poets and artists in one of the most cosmopolitan cities in the world just wasn't enough to secure him a long-lasting wide readership. He eventually ceased writing poetry for a number of years, until he unleashed a surprising flourish of writing beginning in the 1990s, right up until his death in 2013. A reappraisal of his work is long overdue.

Sometime around Lima's passing, I heard City Lights editor Garrett Caples discussing with mutual poet friends at the bar his interest in editing a new volume of Lima's work. Garrett had been in touch with Lima in recent years and had already begun working on such a project. To my own mind, Lima had long been a fringe figure of the New York School. I had read his work here and there, and recalled him from photographs and frequent mention in biographical/memoir material relating to Frank O'Hara, but I was relatively unaware of the details of his life and the sheer quantity of his later work. Garrett's enthusiasm for the project, however, made it clear that Lima was a poet worth looking into.

In early 2015, Garrett got in touch with me at the Gleeson Library at the University of San Francisco, where I work, for assistance locating first a back issue of Poets & Writers that contained poet Bob Holman's "The Resurrection of Frank Lima," then, shortly after, Evergreen Review no. 27 (1962), Lima's print debut. Sure enough, we had both issues on our shelves. Holman's celebratory piece, "an investigative poem," weaves together an interview he conducted with Lima with various lines from Lima's published work. It's a fine tribute to Lima's work and life, and one of the rare instances of such attention during his lifetime.

I suspected Garrett was reaching the final stages of editing his Lima volume, and I hoped for an expansive new collection, with further evidence of Lima's prolific writing in his final years. The collection, Incidents of Travel in Poetry: New and Selected Poems, coedited by Garrett Caples and Julien Poirier and recently published by City Lights, didn't let me down. I join with the rest of the poetry world in being brought to shame for having long neglected one of its most excellent practitioners during his own lifetime.
Go to Bookslut now to delve into Dunagan's close reading of poems from the book and further insights.